This article is published by Travelog.
For more Bangkok travel deals, click here for more information!
Bangkok has two airports – Suvarnabhumi Airport (BKK) and Don Mueang Airport (DMK). Before you decide which public transport you should take to get downtown, you have to first make sure which airport you will arrive at.
Suvarnabhumi Airport (BKK)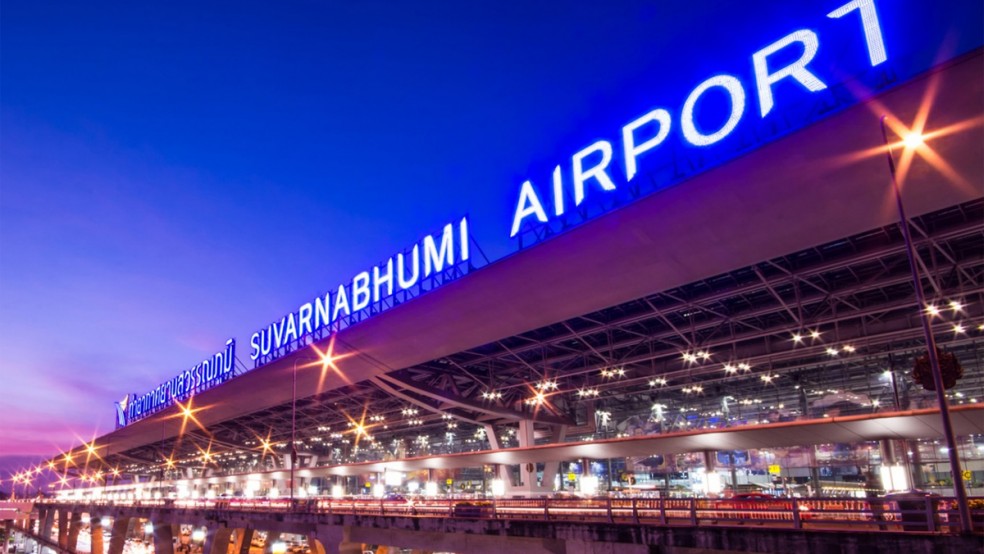 Suvarnabhumi Airport handles most long haul international flights to and from Thailand. Suvarnabhumi is located approximately 30 km east of Bangkok with a direct highway link and rail connection to the city. I have listed 3 transport modes which are the best ways to travel from the airport to city.
This is the most common way to get downtown because Airport Rail Link is the cheapest among the options and it could be the fastest way into Bangkok when the traffic is bad. The train station can be found at B1 Floor.
Airport Rail Link Stations:
Operating Hours: Daily from 06:00 to 24:00 (if you are arriving in Bangkok at midnight, you have to look for another option)
Frequency: The schedule offers trains every 12 minutes from 06:00 to 09:30 and from 16:30 to 20:30 from Monday to Friday. Apart from this, the trains leave every 15 minutes.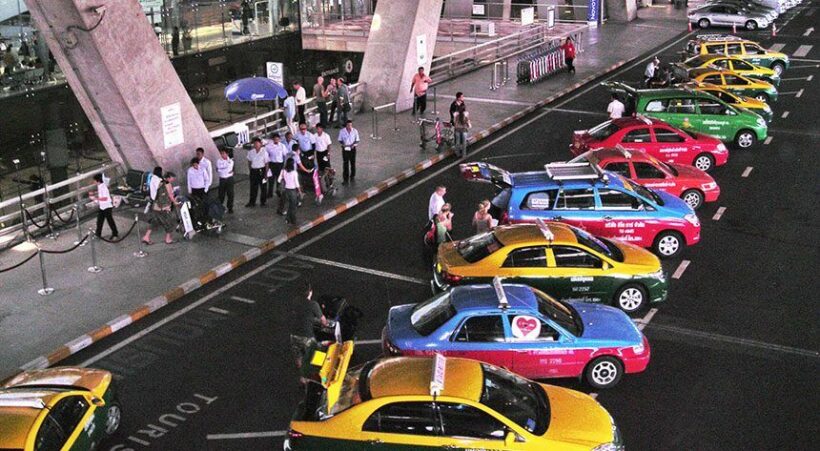 Taking the airport's taxi is definitely the most convenient way as it will bring you straight to the destination. If you are in a hurry and carrying a lot of luggage, metered taxi could be your best option. The taxi service is located on the first floor (Passenger Terminal) gate 4 and gate 7.
Reminder: Ignore anyone inside the airport that's offering you a taxi.
How to take: Receive a ticket from a taxi queue machine, proceed to the lane number printed on your ticket.
Fare: Metered taxi fare plus 50 Baht airport surcharge, and expressway fees.
Service Hours: 24 Hours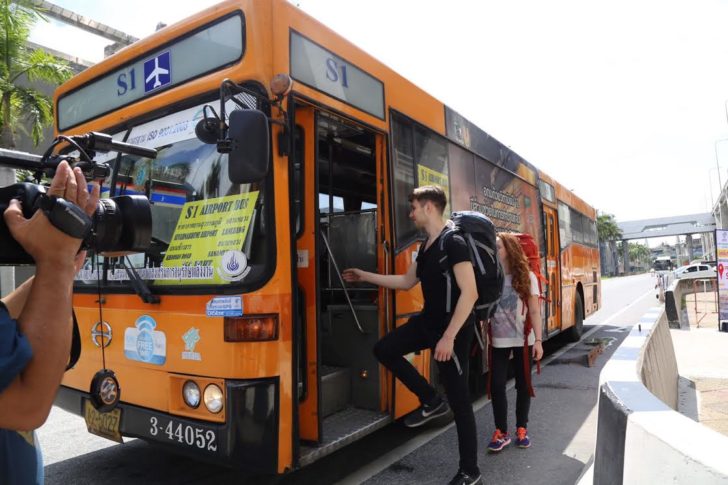 If you are going to Khao San Road, which is in central Bangkok, S1 Airport Bus is the better option for you. The biggest advantage of taking this option is the very affordable price but choose this option only when you have enough time because it will take a longer time compare to the other 2 options. It may take at least one hour for the journey, possibly longer depending on the traffic.
Bus Route: Suvarnabhumi Airport – Democracy Monument – National Gallery – Sanam Luang Bus Terminal (few minutes walk from Khao San Road)
Pick-up point: Gate 7 (First floor of Passenger Terminal)
Operating Hours: 6am (First trip) – 8pm (Last trip)
Fare: 60 baht
Frequency: 30 minutes
Don Mueang Airport (DMK)
Compare to Suvarnabhumi Airport, Don Mueang Airport is located closer to the city. So what are the best options for transportation from Don Mueang Airport to Bangkok City?
Taking metered taxi is always the most convenient and fastest way to get downtown. The taxi ranks are available outside both Terminal 1 and Terminal 2 Arrivals Hall. Same to Suvarnabhumi Airport, you need to line up for the taxi. There is a ticketing system which allows you to book a taxi and wait for it in the waiting areas.
Reminder: There might be a scam waiting for you in the airport, use only the official metered taxi. The official metered taxi will charge a 50 baht as a registered taxi and agree to use the meter.
Fare: Based on meter plus 50 baht airport surcharge (if taking the tollway, passengers are required to pay the tollway fee.)
Taking the airport bus is the cheapest option for transportation. You can board outside the Arrivals Hall at either Terminal 1 or Terminal 2 at Don Mueang Airport.
Fare: 30 baht for a single ticket
There are total 4 routes:
A1 Route [ Don Mueang←→BTS Mo Chit ]
Stops:
– Lat Phrao Central Mall: 15 minutes
– Chatuchak: 20 minutes
– Mo Chit Norther Bus Terminal
Opening hours: From 06:15 to 00:30.
Frequency: 5 minutes.
Travel time: around 30 minutes.
A2 Route [ Don Mueang←→BTS Victory Monument ]
Stops:
– Kasetsart University
– Central Lad Phrao Mall
– BTS SkyTrain Mo Chit
– Saphan Kwai BTS
– Ari BTS
– Sanam Pao BTS
– Victory Monument
Opening hours: From 06:30 to 23:00.
Frequency: 15 minutes.
A3 Route [ Don Mueang←→Lumpini Park ]
Stops:
– Din Daeng
– Pratunam
– Ratchaprasong
– Ratchadamri
Opening hours: Daily from 07:00 to 23:00
Frequency: 30 minutes.
A4 Route[ Don Mueang←→Sanam Luang ]
Stops:
– Khaosan Road
– Democracy Monument
– Phanfa Bridge
– Lan Luang
– Yommarat
– The Prachan
– The Chang
Opening hours: 07:00 to 23:00
Frequency: 30 minutes
Limo Bus is a bit more comfortable and normally a bit faster compared to the normal airport bus. Of course, the fare is also three times more expensive than the normal one. However, if you are traveling alone and taking a metered taxi could be too expensive for you, Limo Bus will be a good option for you.
You can find the Limo Bus stop at Gate 7 of Terminal 1 and Gate 14 at Terminal 2. There are ticket counters at these gates where you can buy tickets.
Fare: 150baht
There are total 2 routes right now:
Transfer between Suvarnabhumi Airport and Don Mueang Airport
Unlike Malaysia's KLIA and KLIA2, the two airports in Bangkok are not close. If you want to transfer from one airport to another, please at least set aside 2 hours to avoid missed flight.
For the easiest way, you can take the airport shuttle bus and this is free of charge! However, if your flight connection times are tight, I recommend you to take a taxi direct because the journey time may take 50 minutes to 1 hour.
Reminder: You need to show a boarding pass/proof of travel
Operating hours: 5am to midnight
[ Don Mueang → Suvarnabhumi ]
Depart at: Outside the passenger terminal at Don Mueang
Arrive at: Gate 5 of departure terminal at Suvarnabhumi
[ Suvarnabhumi → Don Mueang ]
Depart at: Door 3 of arrival hall at Suvarnabhumi
Arrive at: departure terminal at Don Mueang
If you have limited time to make connections, taking a metered taxi is the best option because this is the fastest way. A metered taxi between 2 airports should cost around 300-500 Baht depending on the time of day and whether you take the toll roads.
The good thing about taking the Grab Taxi is you will know how much the journey will cost.
This article is published by Travelog.
For more Bangkok travel deals, click here for more information!