This article is published by Travelog.
For more Bangkok travel deals, click here for more information!
I would say Bangkok is a perfect place for a self-guided tour because you don't need a tour guide to bring you anywhere, Bangkok has numerous transport options available for you. One of the most popular ways to get around Bangkok is the BTS Skytrain. BTS is always the first choice in a self-guided tour because you can escape from the crazy traffic jam in the city, taxi drivers demanding inflated fares and the bus network which is quite difficult to navigate.
One more important point, BTS has direct access to many attractions in Bangkok. This is the main point of this article and I am going to show you the attractions guide nearby the BTS line.
There are 2 BTS line, the Sukhumvit (Green) and Silom (Turquoise) Line. The only point at which the two lines connect is at the central Siam interchange station.
Before the attractions guide, let me introduce you to their ticket system (This might help you to save a little money and travel time, so take note of it!).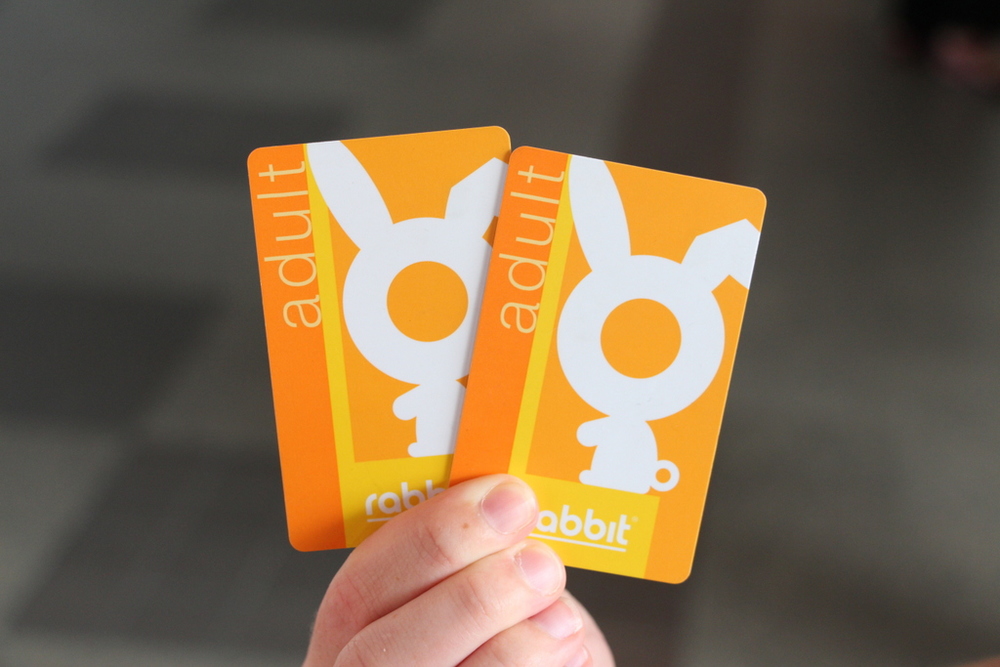 Rabbit Card is a stored-value and you can just tap in and out of the stations with convenience. This could save you a lot of time from queuing at the ticket machine. The Rabbit Card costs a 100 baht deposit and then you can load it with cash to pay as you go (each trip is one baht cheaper if you do this).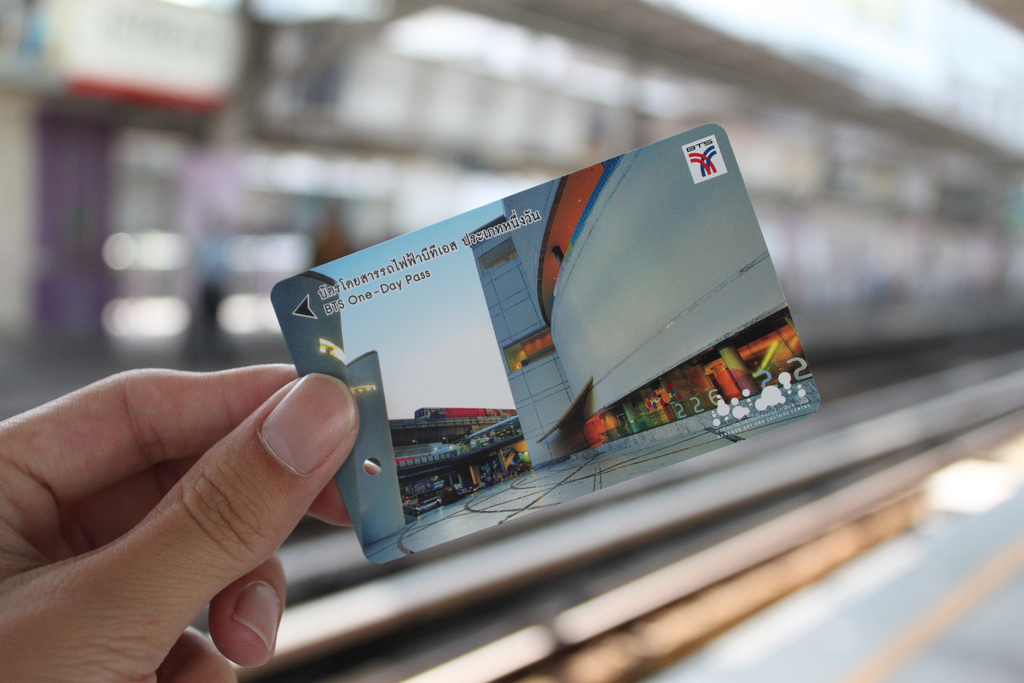 If you need to take BTS many times in a day, I would recommend you to buy a one-day pass. The pass cost 140 baht and it provides you unlimited travel on BTS for the single day.
The Sukhumvit Line (Green)
N8 Mochit Station
Chatuchak is best known to be the biggest weekend market in Bangkok! There are 8000 stalls and it is claimed to be one of the largest night markets in the world! There are a variety of items that can be found here including clothing and accessories, handicrafts, ceramics, antiques and mouth-watering street foods!
How to get there: Take Exit 1 and follow the crowd
Opening Hours:
Wednesday: 7AM – 6PM
Friday: 6PM – 12AM
Saturday: 9AM – 6PM
Sunday: 9AM – 6PM
N5 Ari Station
This is one of Bangkok's best mini-malls and restaurant areas. Crammed with little shops, restaurants, outdoor cafes and a wonderful imported foods supermarket, La Villa is stylish, fashionable and the place to see and be seen. Several of Bangkok's famous cafés and restaurants are gathered here, including Greyhound Café, After You Dessert, Ka-nom, Fuji Restaurant etc.
How to get there: Take Exit 4
Opening Hours: 7am – 10pm
N3 Victory Monument Station
It is a good choice for budget shopping in Bangkok has it offers many shopping options in malls, street market and stores along road alleys. Shopping at Victory Monument is more about street fashion and cheap accessories.
Tips: The best time to shop Victory Monument Market is from afternoon onwards.
Operating Hours: 24 Hour
How to get there: Take Exit 3
N1 Ratchathewi Station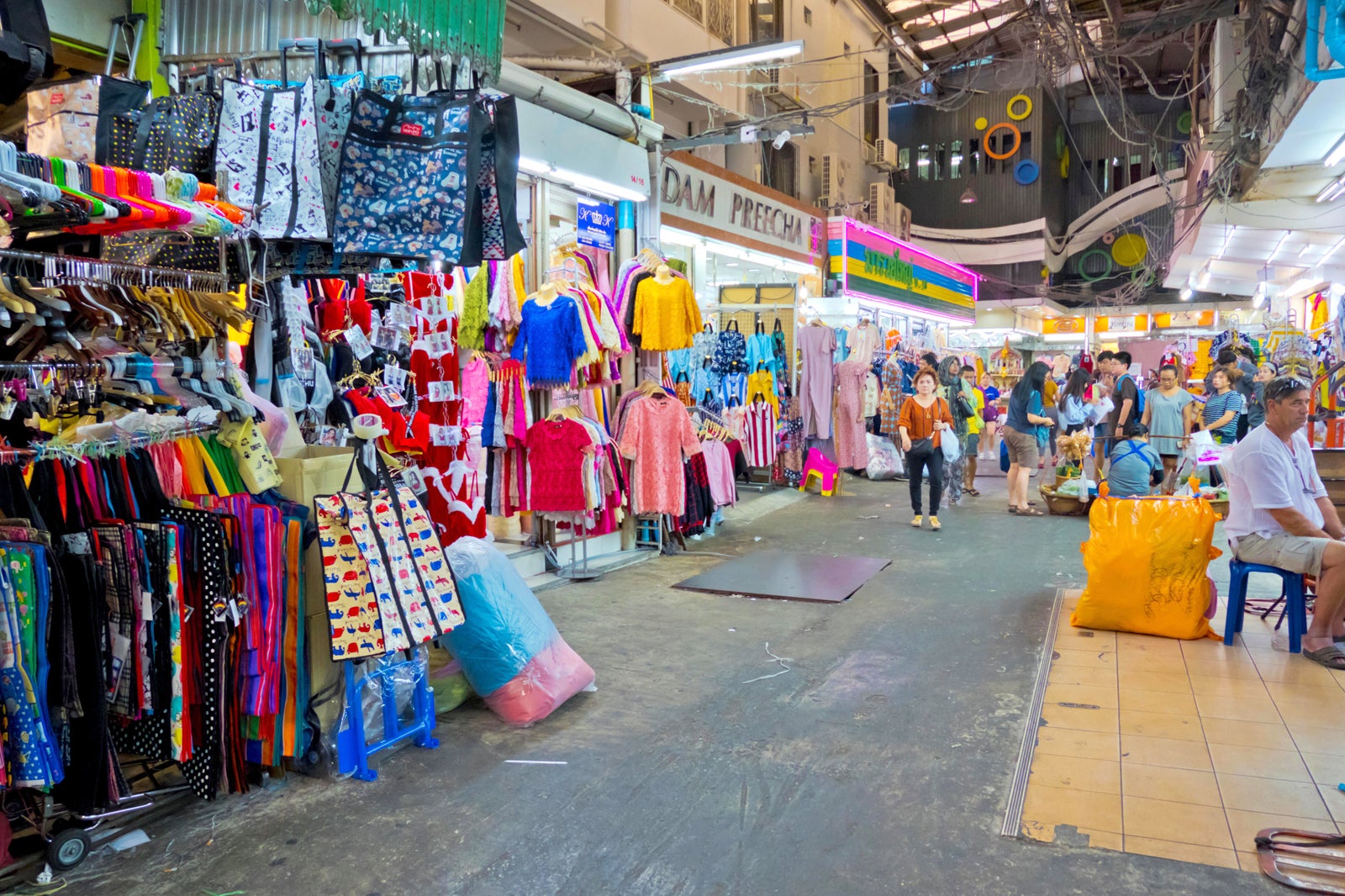 Pratunam is popular among the locals because of the wholesale fashion district. The best thing is most places will package and deliver straight to your hotel so you do not need to carry too many things around. The main selling point of this market is most of the shops here operate as wholesalers. Thus, it is a budget shopping heaven in Bangkok.
Tips: You are also allowed to bargain here! Remember to compare the price before you decide to get anything!
Operating Hours: 10AM – 8PM (Daily)
How to get there: Follow the sign, 15mins walk away from the station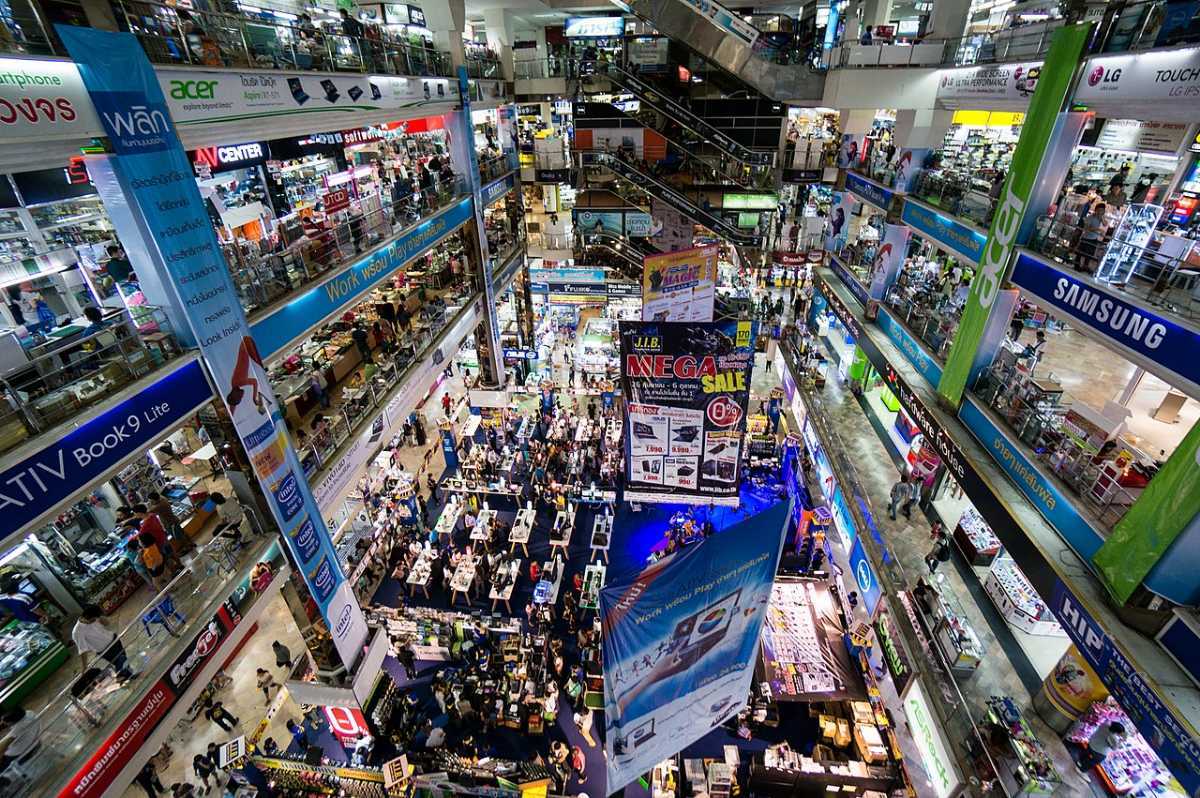 Pantip Plaza is literally the mother of all IT malls. This shopping center is filled with electronics of all kind. You can find all sort of gadgets here! You can even find lenses and accessories of camera that is hard to find here. From brand-new computers and tech accessories to pre-loved equipment, they have it all!
Tips: It is better to bring an expert friend or be educated about the products before you head to Pantip Plaza. The secret here is to take your time and compare prices.
Operating Hours: 10AM – 9PM (Daily)
How to get there: Take Exit 4
Siam (Interchange Station)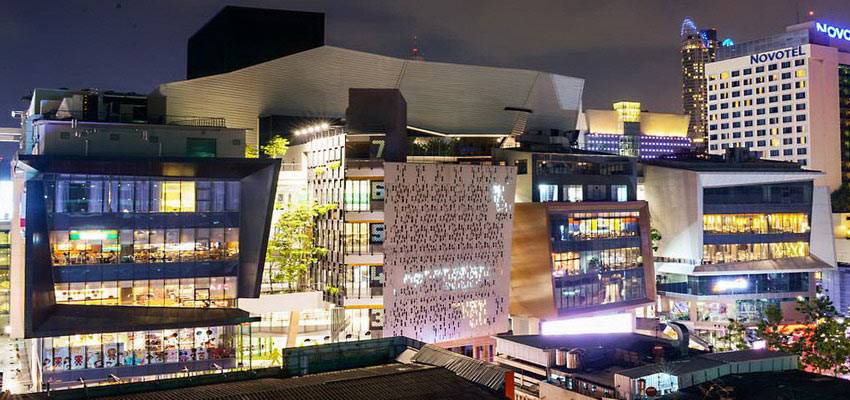 Siam Square is in essence where trends both emerge and are created. This is where fashionistas get a real taste of alternative style and shopping.
Tips: There are many unique cafes in here, check it out!
Operating Hours: 10AM – 10PM (Daily)
How to get there: Take EXIT 1
It is just next to Siam Paragon. It is almost as big as Paragon and Central World. Not only that, it also has a darker and dimmer feel to it. The food court here is less crowded compare to the one at Paragon.
Tips: Get your tourist card at either of the customer relations counters (G and M Floor) by showing your passport.
Operating Hours: 10AM – 10PM (Daily)
How to get there: Take BTS to Siam station
It is smaller than Paragon and Central World but it is bigger than Siam Center. You will not get lost here as it is easy to find you way around. If you like pretty things, you will definitely love this mall!
Tips: Visit Madame Tussauds in Bangkok here on the 6th floor of this mall!
Operating Hours: 10AM – 10PM (Daily)
How to get there: Take Exit 1
There is a big food court at the ground floor. It has many of the biggest international restaurant branches here. There is also a huge supermarket located on the ground floor with food from all over the world. They have both luxury and affordable shops here.
Tips: It is located a little west of Central World.
Operating Hours: 10AM – 10PM (Daily)
How to get there: Take EXIT 3 or 5
E1 Chit Lom Station
Erawan Shrine, also known as Four Face Buddha, is one of the most popular Hindu shrines in downtown Bangkok. Tourists love the free traditional dance performances often seen there. Locals stop on the way to work to pray or give thanks for favors.
How to get there: Take Exit 6
Looking for somewhere fancy to chill? Check out the trendy Thai Style afternoon tea with a relaxed vibe. Erawan Tea Room also rated as "one of the world's best high teas" by Lonely Planet.
Opening Hours: 2:30pm – 6pm
How to get there: Take the sky walk to Grand Hyatterawan Bangkok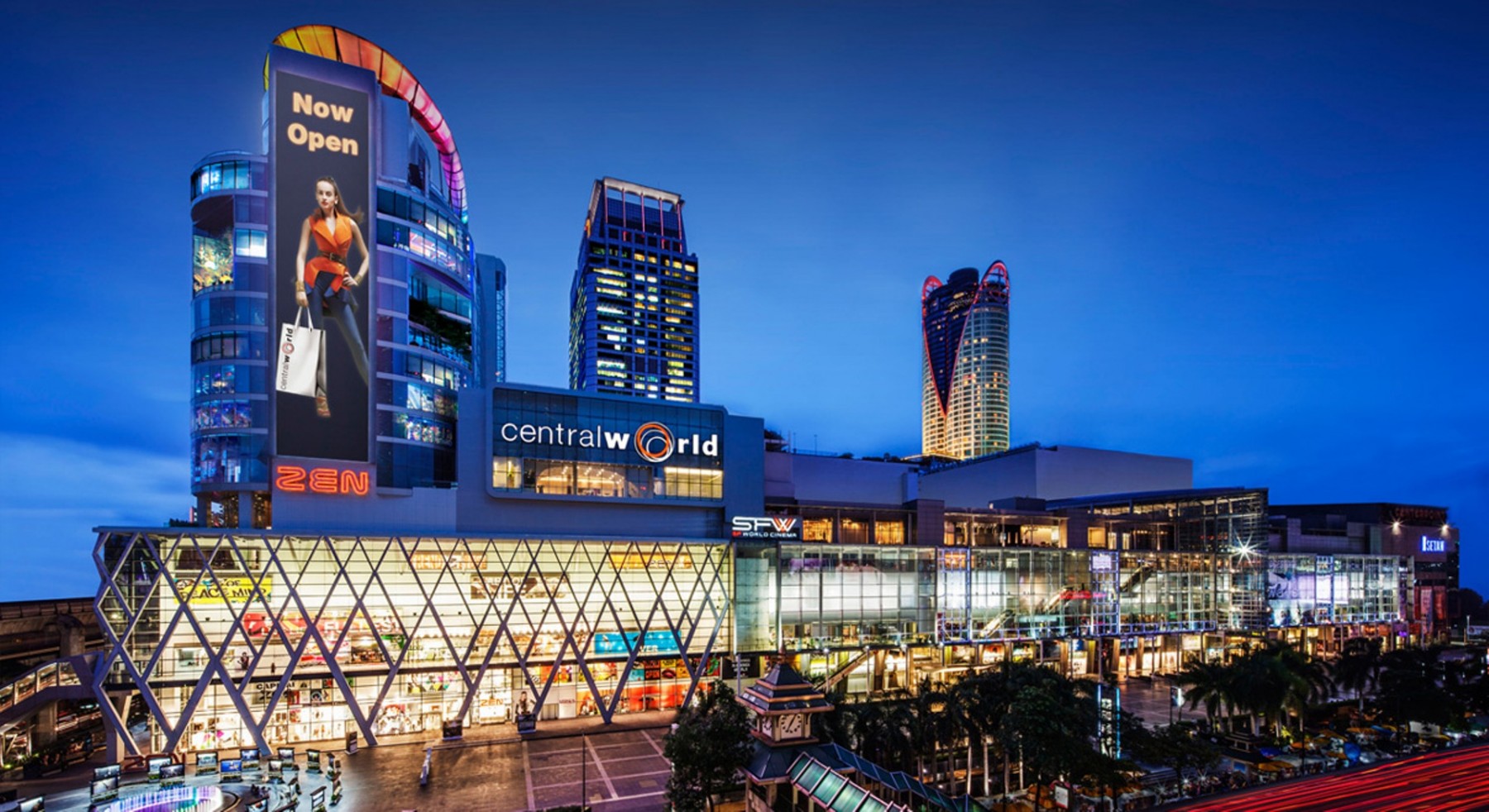 It is the largest shopping mall in Thailand and one of the world's biggest. It has everything from luxury boutiques, the newest technology, restaurants, entertainment and so on. There is also an ice-skating rink here. Central World is so big that it has two department stores which are the Zen and Isetan. Both of them have a huge open area over several floors with many different brands.
Tips: Take the Sky Train and drop-off at either Chitlom or Siam BTS station. The mall is 5 minutes walking distance away from the station.
Operating Hours: 10AM – 10PM (Daily)
How to get there: Take Exit 1
It is a new mall just opened this year and it is located nearby Platinum Mall, Bangkok. There is everything that you expect here from blog shops to cafes and massage parlors. It has everything under one roof.
Tips: Don't forget to try out their soft-serve ice cream with tapioca pearls as toppings in Domo-Kun Café.
Operating Hours: 10AM – 10PM (Daily
How to get there: Take BTS to Chit Lom station and take the Exit 1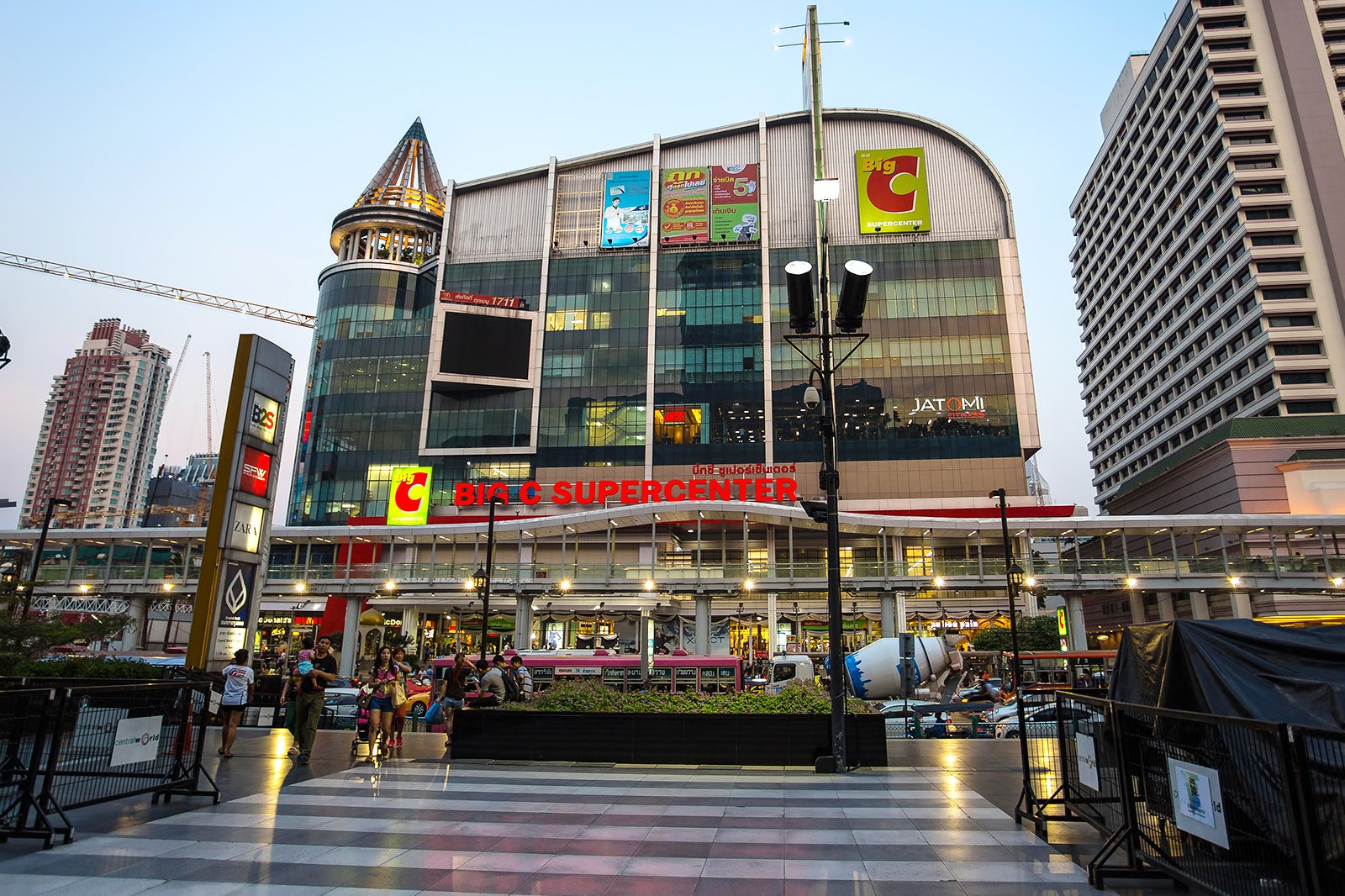 Big C is one of the biggest supermarket chains in Thailand. You will get to find plenty of discounted items here! You will never want to miss this because it has varieties of tidbits at affordable prices.
Tips: Buy all kind of snacks here as souvenirs because it is really cheap!
Operating Hours: 9AM – 11PM (Daily)
How to get there: Take Exit 1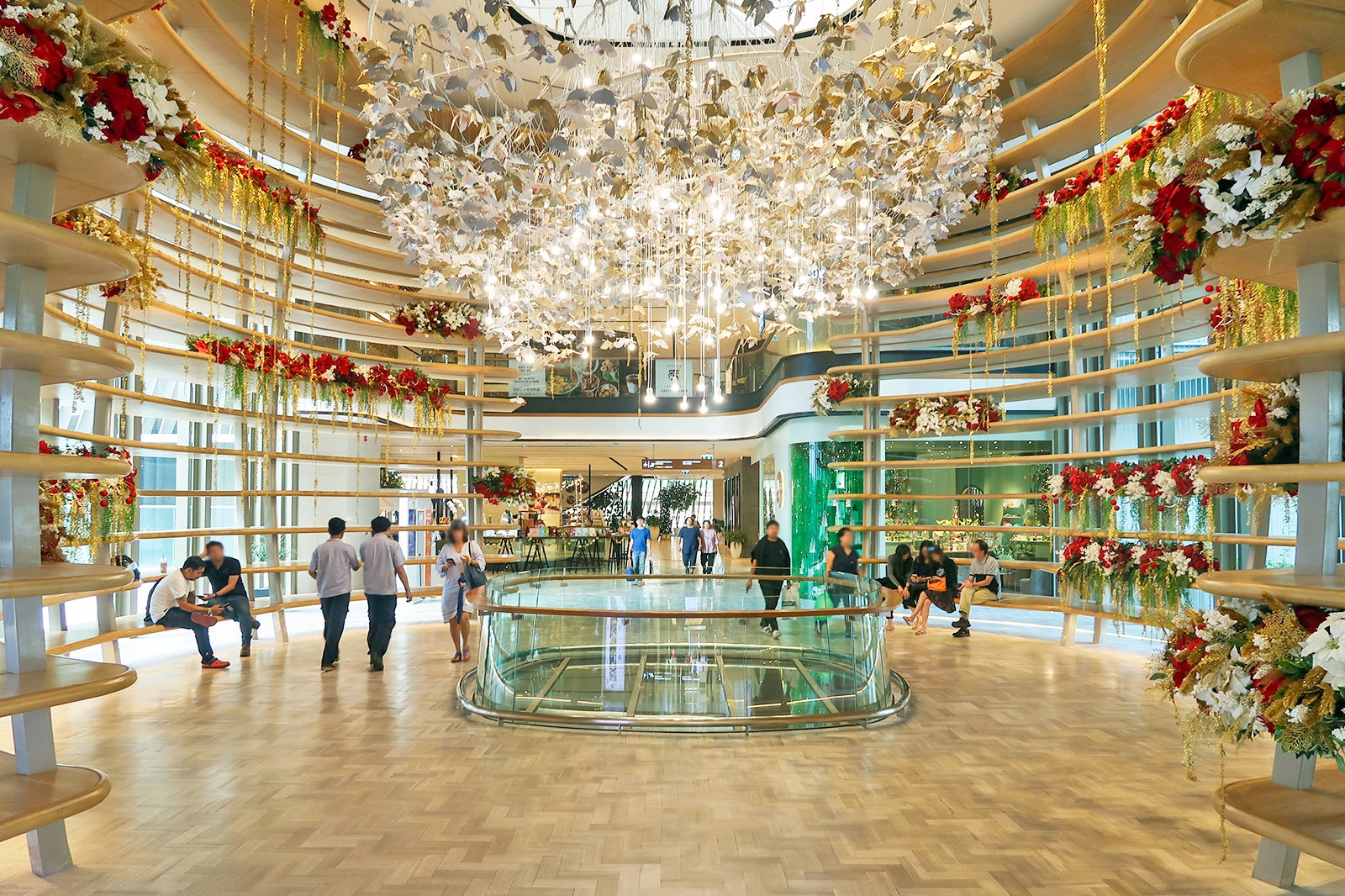 If you are looking for high class and luxurious products, Gaysorn Village will be your perfect choice. It is very relaxing to shop here because there's lesser crowd here.
Tips: The Statue of Lakshmi (the Goddess of Luck, wealth and fortune) can be found on the 4th floor
Operating Hours: 10AM – 8PM
How to get there: Take Exit 6
E4 Asok Station (Interchange to MRT Station at Exit 3)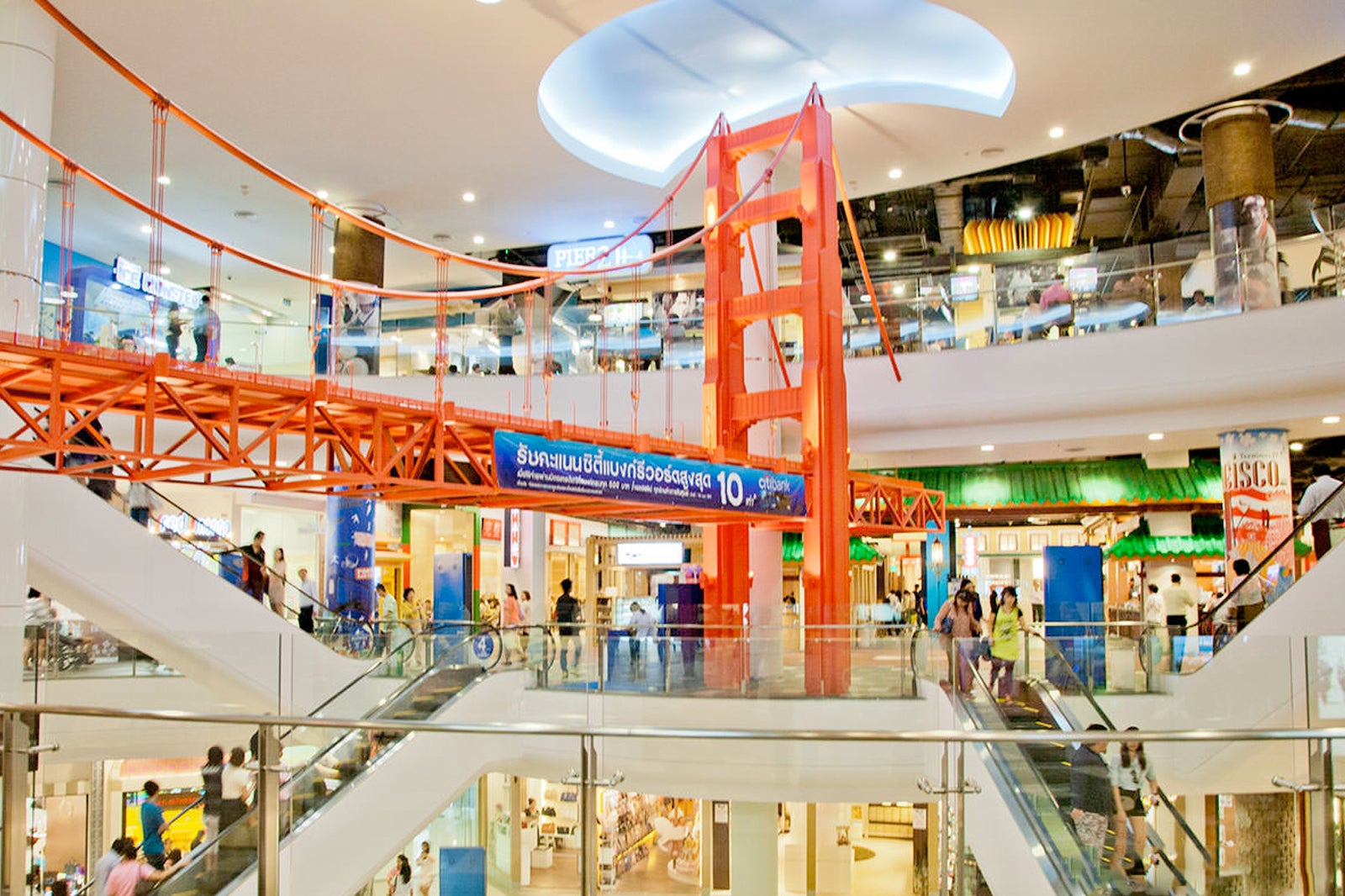 It is a unique shopping mall with the concept of travel-inspired. Each floor's design is inspired by the world's most visited cities such as Rome, Paris, London, Istanbul, Tokyo, San Francisco and Hollywood. You can look for high quality clothes.
Tips: The 'Pier 21 Food Court' at the highest floor of Terminal 21 is well known for cheap and good taste
Operating Hours: 10AM – 10PM (Daily)
How to get there: Take Exit 1 or 3
Besides of shopping mall and night market, another experience you shouldn't miss in Bangkok is the Thai massage. Urban Retreat Spa is one of the well-known spas in Bangkok and the biggest highlight of this spa is: it has a good location which is just located 5mins away from the BTS station. You can enjoy a very relaxing and professional massage at affordable prices here.
Website: Urban Retreat Spa
How to get there: Take Exit 4
E5 Phrom Phong Station
It has a nice atmosphere with glamorous and glossy center. There are world-class designer brands here. Everything here is classy and it has many international luxury brands here.
Tips: If you're looking for a high-class brand or high-class spa, this would be a good choice for you
Operating Hours: 10AM – 10PM (Daily)
How to get there: Take Exit 2
E6 Thong Lo Station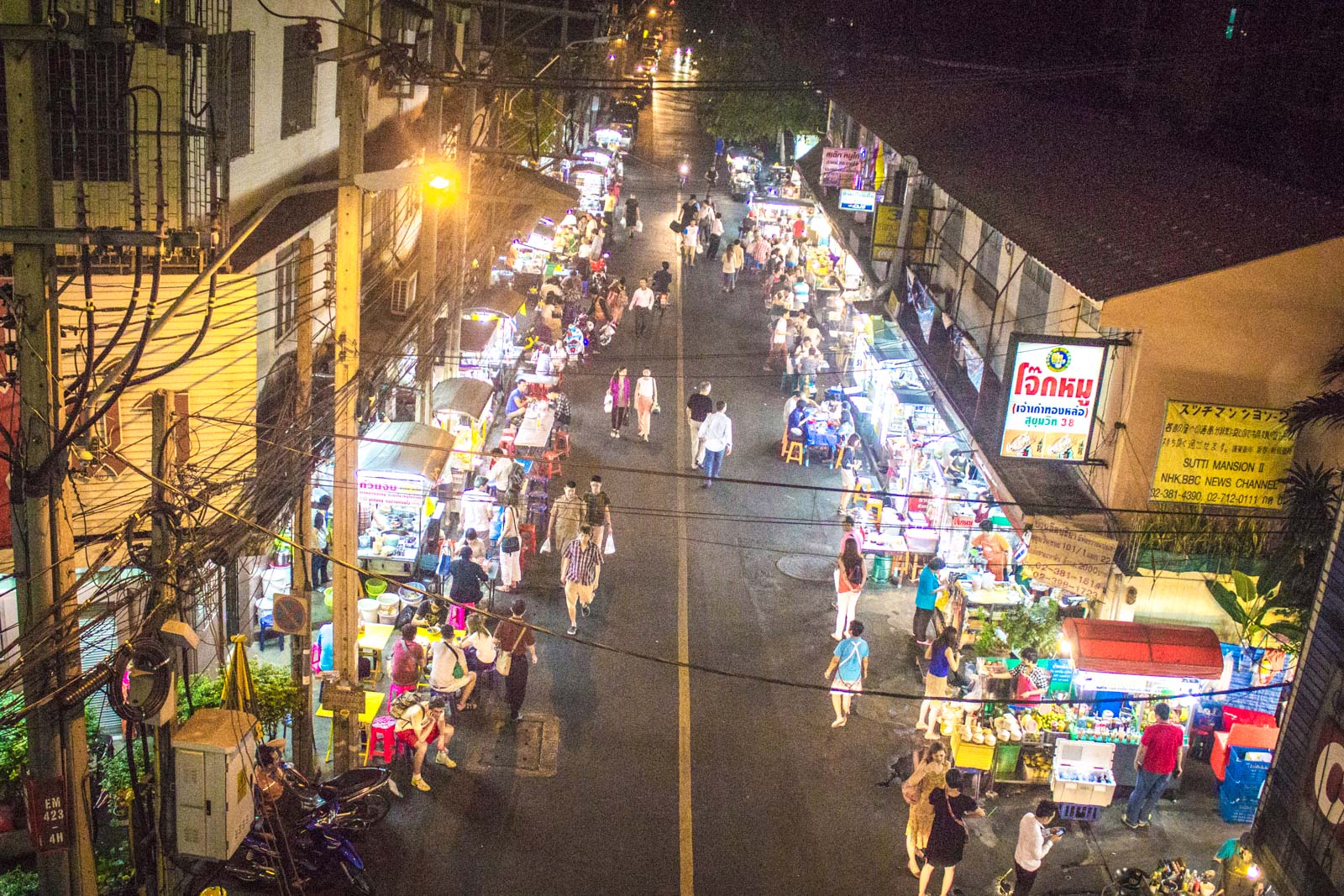 This is the perfect starting point for street food in Bangkok because the all of the best Thai food are gathered here! You can find a wide variety of Thai food here, including Pad Thai, Khao Man Gai (chicken over rice) and Khao Man Gai Ruam (fried and boiled chicken over rice), Rad na, Joke (rice porridge – with different add ons, like fermented egg), Crispy Pork, Red Pork, Som Tam (Papaya salad), thai sweets etc.
Opening Hours: To confirm all stalls are open, you might want to show up about 6:30 pm
How to get there: Take Exit4
E7 Ekkamai Station
Not only Thailand stuff, but you can also buy cheap Japanese stuff here because the new Japanese Cheap Retailer is in Bangkok now! Don't miss out here because you will be able to find a selection of imported Japanese goods and foodstuffs (WITH DISCOUNT!).
Tips: Do not miss out on the famous one — their baked sweet potatoes!
Operating Hours: Open 24/7!
How to get there: Take BTS to Ekkamai Station
The Silom Line (Turquoise)
W1 National Stadium Station
It has more than 2000 stores where you will spend at least 5 hours to shop around. Those who prefer shopping in air-conditioned places will love this place because you can find almost everything that the markets offer here at the same price. You will also find Thai souvenirs at a cheap price!
Tips: Since the price is cheaper so don't compare the quality with those in Paragon.
Operating Hours: 10AM – 10PM (Daily)
How to get there: Take Exit 4
Jim Thompson House Museum
The Jim Thompson House and Museum was founded to tell the story and show the art collection of the American businessman and architect Jim Thompson. Unaccompanied visits are not permitted in the house. There are guided tours provided throughout the day in Thai, English, French Chinese and Japanese.
Opening Hours: 9AM – 6PM
How to get there: Take Exit 1
S2 Sala Daeng Station

Patpong Night Market is surrounded by many bars which you can chill after shopping! This place is always busy and chaotic with all the commotion from the go-go bars nearby and lots of foreign visitors.
This is also one of the biggest night market in Bangkok where you can find almost everything here! Don't hesitate to haggle if you find the goods sold at very high price!
Opening hours: 6PM – 1AM Daily
How to get there: 5mins walk from the station. Take Exit 1 and follow the increasing trail of vendors along the sidewalk.
S6 Saphan Taksin Station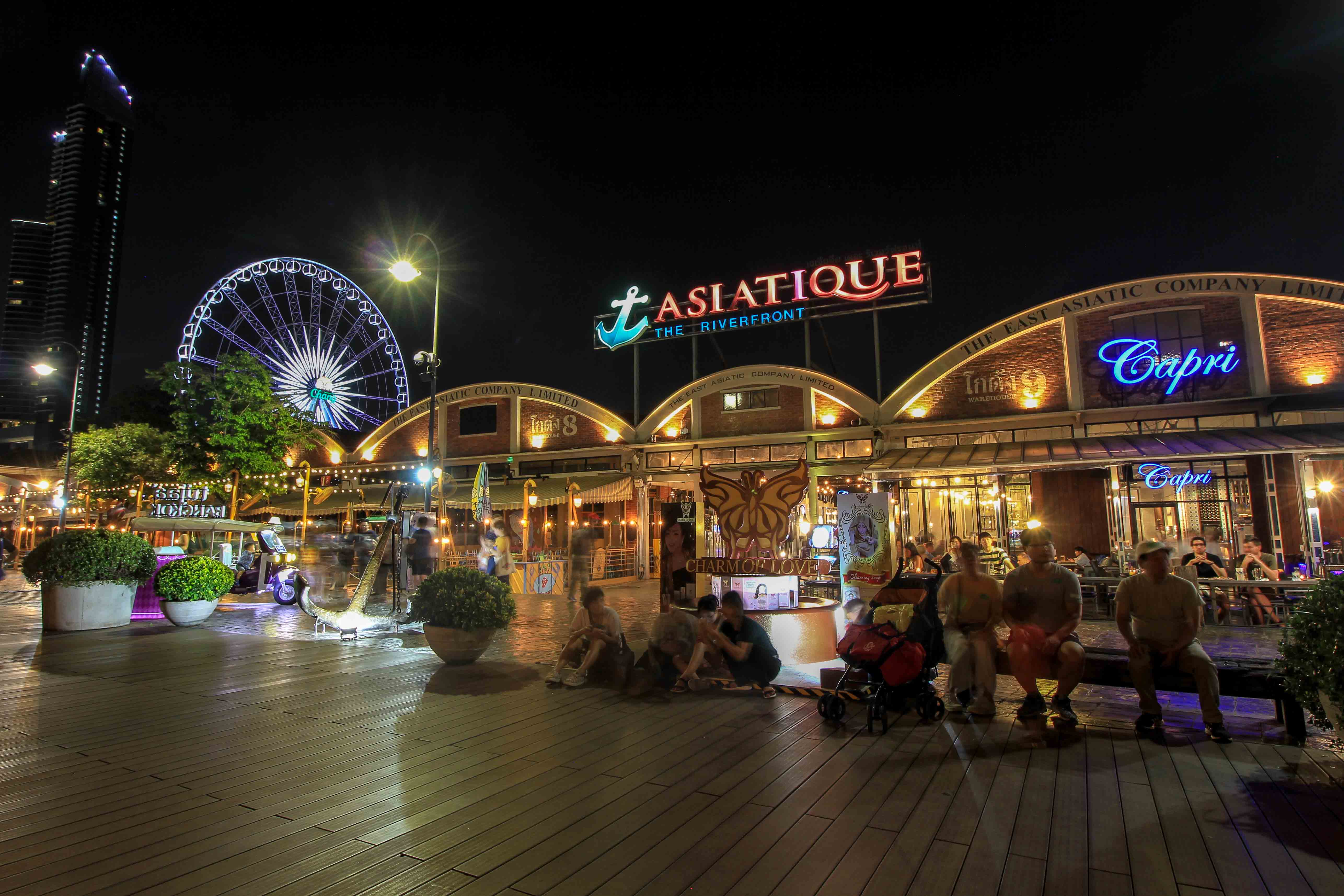 It has successfully combined two of the most popular shopping experiences in the city which are night bazaar and mall. It has over 1500 boutiques and 40 restaurants here! Besides shopping and eating, you can also be entertained by some of the incredible and unique shows here!
Tips: The better and fastest way to get here is by boat. Asiatique also operates free shuttle services between 4PM – 11PM
Operating Hours: 4PM – 12AM (Daily)
How to get there: Take Exit 2 to the Sathon Pier and jump on the free shuttle
This article is published by Travelog.
For more Bangkok travel deals, click here for more information!