This article is published by Travelog.
For more Bangkok travel deals, click here for more information!
Bangkok is definitely one of the most Instagram-worthy cities around the world. From their magnificent temples to the aesthetic cafes, you can take stunning and instagrammable photos everywhere. If you're looking for a café-hopping trip to Bangkok, you've come to the right place! We can find themed cafes everywhere these days, but the ones in Bangkok take it to a whole new level. Instagrammers, it is time to congregate in Bangkok!
In this article, I will break down what I think the most unique themed cafes in Bangkok. These themed cafes are all worth to visit only for one reason: they're all so unique and beautiful that you can hardly find around the world. Visiting these cafes is not just for taking instagrammable photos, more importantly, they bring you a very different and wonderful experience.
1) Unicorn Cafe
This Café is just TOOOOOO dreamy! The Café is attractive and eye-catchy enough from the outside because you will see a big magical unicorn right in front of the cafe.
The whole building is painted with colourful pastel colors. Once you enter the cafe, you can feel yourself entering a magical unicorn fantasyland! There are unicorns everywhere and it feels like the magical unicorns have come alive. You can also be one of them as the café is providing some unicorn costumes for customers!
All the food, drink and dessert here are also well-designed to match with the theme! They have rainbow cake, rainbow smoothies and even rainbow burger!
Address:
44/1 Soi Sathon 8, Silom, Bang Rak, Bangkok 10500, Thailand
How to get there:
Take BTS to Chong Nonsi Station, passby Residence Hotel and walk along Soi 8 Sathorn
Opening hours:
Tuesday – Sunday; 12pm – 8pm
Contact Number:
+66 86 397 9262
2)Big Dog Cafe
Dog café isn't the unique and rare one as you can find it at most places. But, how about a café full of HUGE-sized dogs? As their name stated, the dogs here are normally in big size and they may even taller than you when they stand up! Cuddling the furry big animals is just so healing!
Entry fee of 199baht is required and you can have a two-hour slot to play with dogs. There are no additional charges in these two hours unless you order food and drink in the café. Dogs are separated at outdoor. You are allowed to dine both indoor and outdoor but make sure the dogs do not take your food if you choose to dine outdoor.
Do make sure to make a reservation in advance because the dogs are released by periods!
Reservation Time:
Round 1: 9.30am to 11.30am
Round 2: 12pm to 2pm
Round 3: 2.30pm to 4.30pm
Round 4: 5pm to 7pm
Round 5: 7.30pm to 9.30pm
Address:
82 Soi Ratchadaphisek 10, Lane 7, Khwaeng Huai Khwang, 10310, Thailand
How to get there:
Take MRT to Thailand Cultural Centre MRT Station, the café is just 1mins away
Opening hours:
9am to 12am
Contact Number:
095-259-2392
3)Mr.Jones Orphanage
Mr.Jones Orphanage is one of the highest-rated cafés in Bangkok. Bangkok is a busy and crowded city, but in here, you find peace. The design and décor here are based on the Teddy Bears in fairy tales. When you enter the café, it feels like crossing back to childhood. Sit down and have a cake here with teddy bears surround me is just like I was playing the cooking game with my teddy bear when I was young.
There is a reason that the café is called 'orphanage'. Not only café, but this is also actually a bear factory as well. All the teddy bears in the store are able to be "adopted" by customers. Half of the fees will be donated to Camillian Home, as a fund for disabled children.
Address:
3F Siam Center , RAMA 1 ROAD PATHUMWAN 10330 BANGKOK, THAILAND.
How to get there:
Take BTS to Siam Station and take EXIT 1
Opening Hours:
10:30am – 10:00pm
Website:
Mr.Jones Orphanage
4)The Blooming Gallery
This is a vintage floral-themed café that is another hidden gem that you must visit! This café is a 'sweet & rustic' style café with floral decorations along with green leaves. If you are looking for a cozy and good atmosphere café, this is your best choice. Surrounded by florals greeny plants, you can rest your mind and enjoy your meal.
Address:
LG Floor, Eight Thonglor Mall, Sukhumvit Soi 55, Wattana, Bangkok, Thailand
How to get there:
15-minute walk from Thong Lo BTS Station
Opening Hours:
Sun – Thurs: 10am – 10pm
Fri & Sat: 10am – 12am
Contact:
+66 2 063 5508
5)Maidreamin
Want to experience something different? Well, you can now play a role as "Master" in this café and the maid-waitress will interact with you. Not only exist in Japan, but you can also now find a maid café in Bangkok and Maidreamin is a franchise of Japan famous maid café.
All the maid waitresses are in character the entire time and make everything super interactive with the customers. If you are looking for a place to eating in peace, this is not the place. This is not an ordinary café but it will definitely become a very unique experience for visiting here!
Address:
444 Phayathai Rd., Khwaeng Wangmai, Khet Pathum Wan | MBK Center, 7F, Bangkok 10110, Thailand
How to get there:
Take BTS to National Stadium Station and follow the sign to MBK Center
Opening Hours:
11am – 10pm
Contact:
+66 2 003 1616
6)Little Zoo Café
More than just cats and dogs, you can now play with a bunch of cute exotic animals in this café! Animal lovers, this is the café you must not miss! This is a place that you can have so much fun with and have good food at the same time.
Most of the photos shown online about this café are the customers playing with fennec fox and raccoon. So you must be thinking this café only has a few animals (so was I). Actually not, this café really has a lot of different animals. It is literally a "little zoo" here. There is a board outside that listed the animals you would get to see that day. There will be dogs, cats, rabbits, chinchilla etc.
Address:
424/7 Siam square, Rama I Rd, Pathum Wan District, Bangkok 10330, Thailand
How to get there:
Take LRT to Siam Station and follow the sign to Siam Square
Opening Hours:
11am – 8pm
Contact:
+66 92 448 1116
7)Kaethy The Witch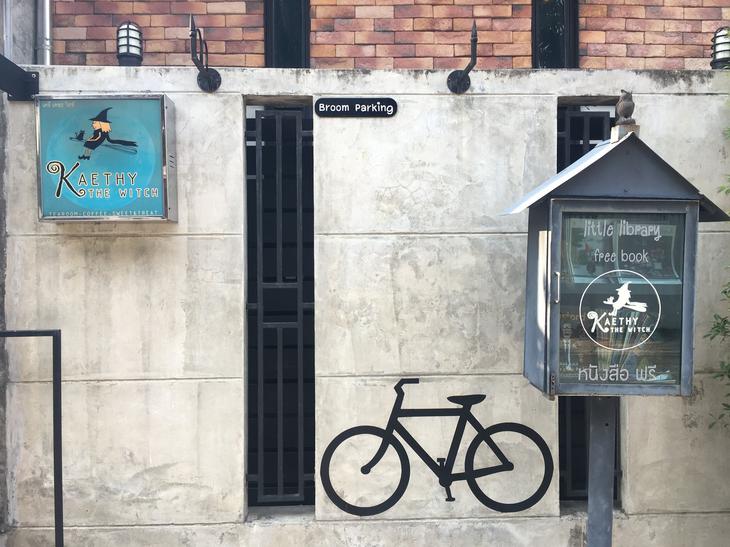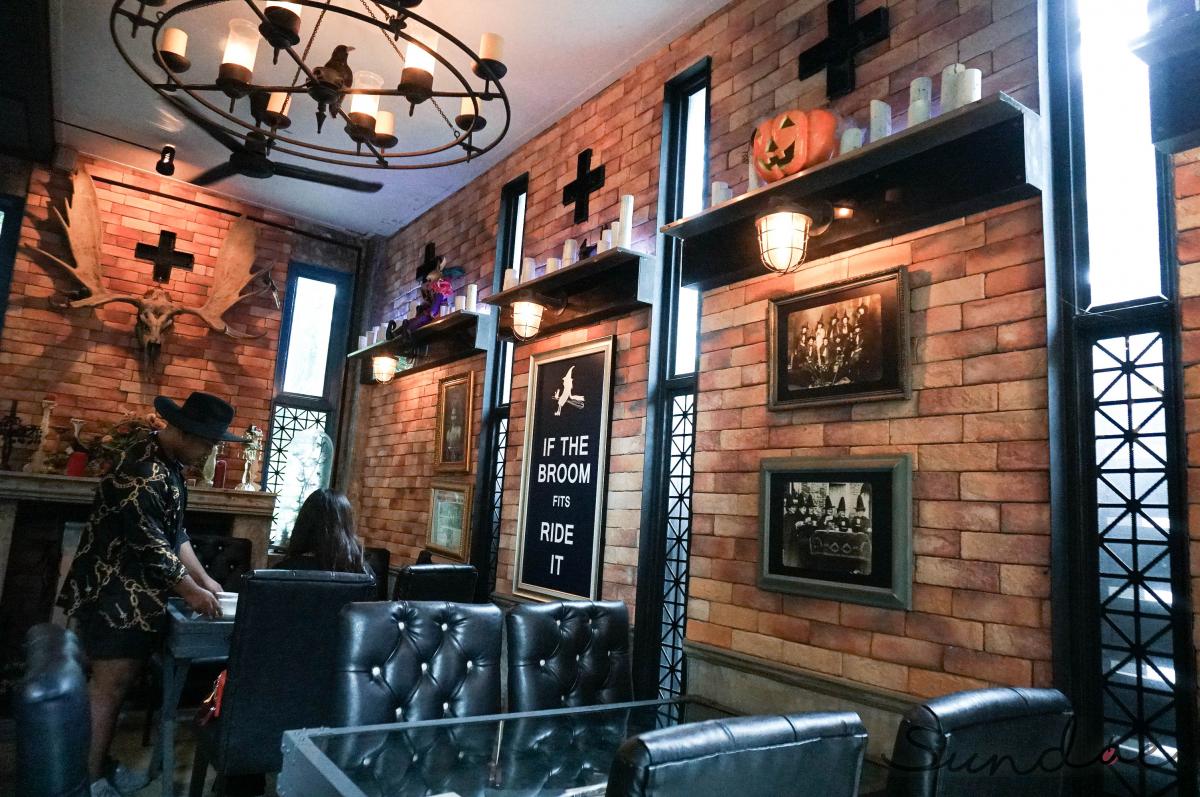 The most special thing about this café is their food and drink! They are serving spooky menu items such as blood on ice, spider cupcakes, devil espresso shots and eyeball treats.
Address:
Soi Nakniwas 41 Lad Phrao Rd, Bangkok 10230, Thailand

How to get there:
The place is quite difficult to reach by public transport, it will be better to use Grab apps.
Opening Hours:
9am – 8pm
Contact:
+66 81 916 8447
8)Moomin Café
Moomin is a recent HOT cartoon character from Finland and now there is a Moomin-themed café in Bangkok! Enjoy the Moomin themed sweets and beverages and spend your time with Moomin and his family and friends!
What attracts me the most is the décor style here is designed like you are in Moomin's house in Moominvallley instead of a normal café. The café gives you a feeling like you are entering the charming world of Moomin.
Address:
the 4th floor of Siam Center
Singha Complex 1788 New Petchaburi Rd, Bang Kapi, Huai Khwang, Bangkok 10310
How to get there:
Take BTS to Siam Station and follow the sign to Siam Center
Opening Hours:
10:30am – 9pm
Contact:
+66 61 546 3539
9)More Than a Game Cafe
If you are looking forward to spending a long time in a café with your family and friends, this café will be the best choice for you. As the name already said, this café is more than just a game. This is the largest board game café in Bangkok and they have a very good variety from all kinds of board games. They also have some Game Masters that explain the games to you. You can check what games they have from their website.
The board games here are available for purchase or hourly in-house rental too. Younger players can also join in tailored workshop sessions. Thus, this is a café that you could probably spend a whole day in.
Address:
3rd floor of I'M Park Mall
I'm Park Community Mall, Building B, 3F, Soi Chulalongkorn 22 | Wang Mai, Bangkok 10330, Thailand
How to get there:
Take BTS to National Staduim (same stop for MBK), take Exit 2 – take a taxi or grab to I'm Park
Opening Hours:
Mon – Thurs: 11am – 9pm
Fri: 11am – 11pm
Sat: 10am – 11pm
Sun: 10am – 9pm
Contact:
02-214-4385
This article is published by Travelog.
For more Bangkok travel deals, click here for more information!