This article is published by Travelog.
For more Phuket travel deals, click here for more information!
Let's face it – when we visit any café/restaurant that serves food with such impressive food presentations and/or has beautiful décor, we can't help but whisk our phones out from our bags and pockets to take a few pictures of the food and the surrounding ambience before digging in to actually taste the food.
In Phuket, other than beaches and islands, there are also PLENTY of cafés and restaurants that serve really tasty food items, suitable for both breakfast and lunch – not to mention that the interesting concepts that you can observe with your eyes through the interior design! Check out this list of 20 awesome places that serve really delicious brunch, and at the same time can satisfy your Instagram feed.
1) Dou Brew Coffee & Craft
Located in one of Phuket's Old Town's narrow streets, Dou Brew Coffee & Craft is a great spot for you to get that coffee of yours. The owners have kept the decor really simple yet vintage at the same time with wooden furniture and classic photographs hung on the walls.
Not to mention, the food, typically scones and cakes, are presented in a subtle manner which can be great brunch options too if you're looking for light food to indulge in.
15 Soi Rommani, Amphoe Mueang Phuket, Phuket
+66 92 218 9292
2) Glasshouse @ Sino
A great place to visit with your best friend, partner or loved ones in general, Glasshouse @ Sino is an Instagrammer's ideal place for a backdrop. With white walls, glass windows, hanging umbrellas and a big tree to sit under, what could possibly be better?
Another point to make this place an awesome brunch place: they open as early as 6AM, so even if you're already craving brunch in the morning, you'd still be able to get your food cravings fixed here. Many recommend trying their smoothies. Satisfying your tummy and your Instagram feed – nice.
1 Montri Rd, Tambon Talat Yai, Amphoe Mueang Phuket, Chang Wat Phuket 83000, Thailand
Open daily at 6AM until 9PM
+66 76 232 429
3) Macaw Cafe (Rawai)
Macaw Cafe is located on Rawai Beach, and provides those tropical, South American vibes with their own Thai twist. Because Rawai Beach is small, there aren't too many tourists around, which may make your dining experience here more peaceful too.
From tropical fruit smoothies to pancakes, to burgers and salads – having brunch here in Macaw Cafe should be no problem, other than having too many good food choices to choose from! The ambience, the food presentation, the sunny beach – the combination of all these elements make a great Instagram photo too, don't you agree?
62, Rawai, Amphur Muang Phuket, 57, Rawai, Mueang Phuket District, Phuket, Thailand
Open daily from 8.30AM to 10.30PM
+66 99 301 8301 , Instagram
4) Bookhemian
Book lovers, you gotta check this cafe-slash-bookstore out! Bookhemian is undeniably a book and food heaven for those who love reading, with shelves and shelves of books lining the walls within the cafe. Choose from novels, comics or magazines and enjoy your brunch here with the cosy ambience.
Another cool feature that they have here in Bookhemian is a mini cinema on the second floor; just pay about THB100 and enjoy the occasional films they screen. Of course, you can't leave out the opportunity to snap a few shots for your Instagram!
61 Thalang Road, Phuket
9AM to 7PM (Mon to Fri); 9AM to 8.30PM (Sat & Sun)
5) Rose Espresso
As soon as you step into Rose Espresso, the pastel shades of pink and white and the bright dash of lime green and warm brown will make you feel that instant homey feeling, with a touch of femininity from the decor on the walls.
Grab a serving of healthy brunch options like the granola bowl, or if you're in the mood for something heavier, the waffles option is always the best! Enjoy your food with the coffee of your choosing and remember to snap your Insta-worthy shots before digging in!
13 Krabi, Talat Nuea, Mueang Phuket District, Phuket 83000, Thailand
Open daily from 8AM until 6PM
+66 89 774 5321
6) Gallery Cafe by Pinky
This conventional cafe serves great brunch food options that are available no matter the time of day! If you ever stop by, by all means say hi to the owner, Pinky who's always there to make sure her customers are having a great dining experience.
Gallery Cafe is a great place to visit for brunch because of their extensive menu on eggs. In addition, Gallery Cafe's use of various ingredients in their food add that extra pop of colour that will surely brighten up your Instagram feed! You can visit their branch in Chalong if you're nearby the area.
19 Yaowarat Rd, Tambon Talat Nuea, Mueang Phuket District, Phuket 83000, Thailand
Open daily from 8am until 5pm
7) Factory Cafe
It's not surprising to see foodies, tourists and food bloggers alike flocking themselves to Factory Cafe – their decor and their food are just that Instagram worthy. Designed with an industrial concept, the simplicity of the cafe itself makes it an ideal backdrop for any Instagram photo.
The food too are artistically presented in creative ways too, such as using boards instead of plates for their desserts. They have a number of Thai dishes with rice, so you technically get the best of both worlds when you have options of savoury and sweet!
81, 83 Satoon Road
Open daily from 10.30AM to 11PM
8) Go Vegan Cafe & Yoga
Been eating heavily in Phuket and want to try a healthier option? Why not Go Vegan? (pun intended) Jokes aside, Go Vegan is a cafe in Rawai that provides all vegan options on their menu, making each bite you take taste healthy and yummy too!
The food doesn't just make you healthier, but it looks great on photos too! The creative use of ingredients in their food makes it look so appetising, you won't be able to resist!
4009 Rawai, Mueang Phuket District, Phuket 83100, Thailand
Open from 8AM – 10PM (Mon-Sat; Closed on Sundays)
9) Project Artisan
This place is very artsy-fartsy; the creative murals painted around Project Artisan makes a perfect background for your Instagram shots.
Dig into their delicious Western-inspired brunch items while taking in the endless amount of creativity. Furthermore, observe as your food are served on wooden boards and trays instead of the conventional plate!
53/17 Moo.6, Cherngtalay, Thalang, Phuket 83110, Thailand
Open daily from 8.30AM until 11PM
10) Wilson's Phuket (Rawai)
Another cafe that is brewing with creativity and artsy vibes near Rawai Beach is Wilson's Cafe. Some of the most popular dishes for brunch include their waffles, smoothie bowls, and french toasts!
Just look at the plating; it'll automatically make you drool and fork out your phone to snap to show off on your Instagram. Bask in the beach vibes and natural lighting while you fill your tummy with delicious goodness!
31, 44 Soi Saiyuan Rawai, Amphoe Mueang, Phuket 83100, Thailand
Open daily from 7.30AM until 9PM
11) Rider Café
Are you fascinated with those big bikes? Well, whether you are or you aren't, you've still got to check out Rider Cafe! A super chill place for you to meet up with your friends or other bike enthusiasts, Rider Cafe provides a retro vibe with its vintage wall decorations. Believe it or not – they even have a bike in the cafe, making them perfect props for that cool, hipster Instagram shot.
If you're interested in renting a bike, Rider Cafe also has several connections with bike rental companies, so feel free to approach them and ask for a quotation, should you be interested. When it comes to food, many recommend ordering their Rider Bacon Burger, so make sure you try it out!
Yaowarad Rd 30, Thalad Yai, Phuket Town, Thailand 83000
Open from 8.30AM to 6PM (Mon); 8.30AM to 11PM (Tues to Sun)
12) The Old Phuket Coffee "Coffee Station"
Decorated with monochrome pictures and antiques, the "Coffee Station" certainly succeeded in bringing out that vintage, retro look of coffee shops during the olden days.
Take in some of the nostalgia as you have your brunch here with some strong coffee, and showcase it on Instagram when you snap some cool, hipster photos that'll get your friends asking where "Coffee Station is.
72/1 Yaowarat Rd, Amphoe Mueang Phuket, Chang Wat Phuket 83000, Thailand
Open daily from 9AM – 7PM (Mon to Sat); 10AM – 7PM (Sun)
13) We Cafe
Visit We Cafe, an in-house greenhouse that specialises in growing their own lettuces for their salads! Decorated with lush green plants, We Cafe serves customizable salads where you get to choose your own toppings. If salads are not your type of food, there are also pizzas, rice dishes, smoothies for you to choose from!
We Cafe's cosy environment and delicious food must be shared with your peers, so remember to take lots of pictures! While doing so, feel free to sit back and enjoy quality time with your friends and family.
5 30 Chao Fah Tawan Tok Rd, Wichit, Mueang Phuket District, Phuket 83000, Thailand
Open daily from 10AM until 10PM
14) The Tent (Old Town Phuket)
Ever had your brunch in a cute little tent? The Tent in Phuket just brought this cute concept alive! Now you can have your meals while sitting in a tent that brightens up your Instagram feed!
Some of their really popular brunch items include banana pancakes with peanut butter, eggs benedict with smoked salmon, and their avocado bacon bagel! So do stop by this cute little restaurant.
14/1 Thepkrasatree Rd, Tambon Talat Yai, Mueang Phuket District, Phuket 83000, Thailand
Open daily from 7AM until 6PM (the time might be different on Sunday & Friday)
15) Eleven Two & Co. Cafe
Though newly renovated, Eleven Two and Co have kept the classic, traditional shophouse look, and at the same time incorporating a bit of modernity into their cafe's concept and food.
With so many items to choose from their menus, you'll be spoilt for choice when you visit for brunch! Their mango soft crepe, pizzas, pad thai and vegetable fried rice are some items on their recommended food list, so give them a try when you visit!
112, 114 Thalang Rd, Talat Yai, Mueang Phuket District, Phuket 83000, Thailand
Open daily from 10AM until 8PM
16) Cafe Kantary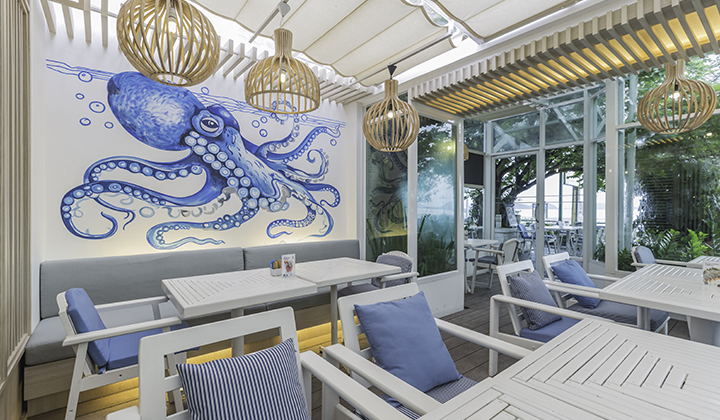 Sitting by the beach and enjoying the sea breeze at Cafe Kantary is what you need to start off your day. Managed by the Kantary Bay Hotel, Cafe Kantary has a pleasant environment that you can document on Instagram, and serves delicious food too.
Order yourself one of their impressive toasts, pancakes, cakes, pizzas and drinks for brunch and remember to enjoy your meal while snapping away with your phones and cameras.
31/11 Mu 8 Tambon Wichit, Phuket 83000, Thailand
Open daily from 8AM until 11PM
17) Unforgettable
In the mood for some great Thai Iced Milk Tea? Come over to Unforgettable Cafe, known to serve some of the best freshly brewed Thai milk teas in the area.
Although they mainly serve dessert options like cakes, panna cottas and ice cream, it is still a great place to grab a cup of coffee or tea and chill before you head on out to the town for sightseeing for the rest of the day. Plus, everything looks so cute and delicate here, how could you resist from taking pictures?
10 Yaowarat Rd, Tambon Talat Yai, Mueang Phuket District, Phuket 83000, Thailand
Open on Thursdays to Tuesdays, 9AM – 5PM (closed on Wednesdays)
18) Poached Breakfast Café
A bakery and a breakfast cafe combined into one – come to Poached to get your breakfast cravings fixed! Serving from an array of waffles, pancakes, and other Western breakfast options, Poached serves you food made of high quality, from the freshest bread to the juiciest burger.
Honestly, how could anyone resist food that looks that good!? All these food photos from Poached are surely going to get your friends and family salivating at the end.
4/9 Moo 5, Chalong, Mueang, Phuket 83100, Thailand
Opens on Tuesdays to Sundays, 8AM to 5PM (Closed on Mondays)
19) A Spoonful of Sugar (Rawai)
Originally an old house, it has been renovated to serve as a coffee shop which is the A Spoonful of Sugar cafe that you see today. Get yourself a cup of coffee and a slice of their delicious cakes, or if you prefer something more hearty, try out their fresh fruit smoothies!
If you don't drink coffee, try out their Chai Tea as it's known to be the only in Phuket who serves it authentically! If you really must have your dose of coffee, try asking for their Chai Latte! Don't forget to order some sandwiches, smoothie bowls and their creative salads to start off your day a little later!
30/10 Moo 1, Viset Road, Rawai, Mueang Phuket District, Phuket 83100, Thailand
Opens on Tuesdays to Sundays, 8AM – 4PM (Closed on Mondays)
+66 76 388 432, Facebook
20) Campus Coffee Roaster
Campus Coffee Roaster's interior design of exposed brick walls, wooden tables and white painted walls brings simplicity and classic to another level. Instagram pictures can be taken anywhere in this cosy cafe, whether it be indoors or outdoors.
An ideal place for intimate gatherings for friends and family, Campus Coffee Roaster serves delectable pastries and high-quality coffee, making it one of the best places to have your brunch dates in Phuket Town.
6 Krabi, Amphoe Mueang Phuket, Chang Wat Phuket 83000, Thailand
Opens daily from 10AM to 6PM
Have you jotted down the cafes and restaurants you're planning to visit in Phuket? Remember to pack along your cameras and phones with you!
NOTE: All the above information is correct at the date of publication. If you come across any changes or updates, please let us know by email and we will update the information accordingly. Thank you!
This article is published by Travelog.
For more Phuket travel deals, click here for more information!