This article is published by Travelog.
For more Phuket travel deals, click here for more information!
We know, planning family trips can be a pain when you have to make sure that there are kid-friendly activities that are safe and fun for the younger ones while being on the lookout for cool and challenging things to do for the young adults too. Luckily, Phuket is a great one-stop destination for all those things! Here's a list of 20 places with fun activities in Phuket that we've compiled, guaranteed to make this family trip a fantastic one.
1) Khao Sok National Park
Believe it or not, Khao Sok National Park is so massive that it's even rumoured to be half the size than Bali! Surrounded by hundreds of small islands, Khao Sok National Park is also surrounded by thick jungles, waterfalls and limestone cliffs.
Spend a few days here by booking your stays directly with the park's management, so that you have ample time to do all sorts of fun activities with your family, such as swimming, kayaking, boat tours, bird-watching, hiking, camping, and even participate in nature trails for walking and exploring! The most popular tour in Khao Sok National Park includes elephant trekking, canoeing, and cave exploration as part of the 3D2N Jungle-Lake safari trip.
Prices: Prices depend on tour and length of trip.
Address: Khao Sok National Park – From Phuket – 170 km or 3.5 hours by minivan
Contact: info@khaosok.com
Website
2) Koh Khai Islands
To visit the Koh Khai Islands, it's very recommended that you rent a private longtail boat and make your way there with your family! A perfect place for snorkelling and swimming, enjoy the beauty of mother nature here while taking in the calmness and serenity of the Koh Khai Islands.
Enjoy swimming around with schools of fishes near the shore in the crystal clear waters, which would be an interesting experience for the kids and adults alike! Just be careful when you visit Koh Khai Islands – there are many precious coral reefs, and we all have a responsibility to protect them.
Prices: Half-day tours = 1,100 THB/adult, 800 THB/child, children under 3 = free. Full-day tours = 1,200 THB/adult, 1,000 THB/child, children under 3 = free.
Address: Phuket Tours Direct, 6/56 Moo 8 Chaofa West, Chalong, 83130 Thailand.
Contact: info@phukettoursdirect.com, +66 81 936 4348
Opening hours: Office hours: 7am – 10pm. Tour times listed above.
Website
3) Phuket Mining Museum
The Phuket Mining Museum tells the histories of Phuket being involved in tin mining for at least half a century beginning around the turn of the 20th Century. Come learn how thousands of Chinese labourers in the past made their way to Phuket, which now makes up the unique mixture of culture and ethnicity in the community.
The museum has a lot of special features too, such as mini models and photographs of olden Phuket, as well as old Thai currency back in the days. Generally, the Phuket Mining Museum is a great place to learn new things about the past. Kids will even get the chance to "try" tin mining for themselves, how cool is that!?
Prices: USD $3 / approx. 100 Baht (adults), USD $2 / approx. 50 Baht (children)
Address: Moo 5, Kathu-Ko Kaeo Road, Kathu, 83150
Contact: +66 88 766 0962
Opening hours: Mon-Sat, 8am to 4pm (Closed on Sundays)
4) The Gibbon Rehabilitation Centre
Established in 1992, the Gibbon Rehabilitation Centre is a non-profit organization dedicated to sheltering and protecting the endangered white-handed gibbons. Not only will it be fulfilling as you and your kids will be able to learn about gibbons, animal rights and the importance of protecting them, you will also play a big part in supporting a great cause to protecting the species.
These amazing primates have been used to lure tourists for picture-taking opportunities, in which gibbons have been drugged, abused, and even starved for humans to make profits out of them at tourist hotspots. So if you ever spot something like this happening when you're out and about, never take a picture with the gibbons and immediately report it to the police. While visiting the rehabilitation centre, you can even "adopt" a gibbon with your kids!
Prices: Free! Donations welcome.
Address: 104/3 Moo 3, Paklock, Talang, 83110
Contact: +66 76 260 492, grp@gibbonproject.org
Opening hours: Sunday-Friday, 9am to 4.30pm, Saturdays, 9am to 3pm
Website
5) Phuket Wake Park
Wanna learn how to wakeboard like the coolest person out there? Make your way to Phuket Wake Park, and learn from the professionals!
It doesn't matter if you're a beginner or expert – all that matters is that you and your family have fun! Book a lesson with the instructors over at Phuket Wake Park and with a few practice runs, you'll surely get the hang of it!
Address: 86/3 Moo 6 Wichitsongkram Road, Kathu, Phuket, 83120, Thailand
Operating Hours: Daily from 7am to 9pm
Phone: +66 (0)76 202 525
6) Jungle Xtreme Adventure Park
Time to put your phones and your worries away and surround yourself with nature at Jungle Extreme Adventure Park. Do you have what it takes to climb the highest tree-climbing obstacle course in Asia?
Challenge yourselves as you course through nets, cables, suspension bridges, ziplines at this massive park. There are three levels here; blue – easy, red – difficult, and black – challenging. They even have a kids zone here, so that kids as young as three can even join in! No worries about safety too – everyone will receive a briefing about the harnesses and equipment, and there is always constant supervision. So, are you up for the thrill?
Prices: From USD $27 / approx. 900 Baht (25 platforms)
Address: 54/17 Moo 6, Talad Chalong, A. Muang, 83130
Contact: +66 92 879 5231, info@junglextrem.com
Opening hours: Mon-Sun, 9am to 6pm
7) Splash Jungle Water Park
How could you miss out on Phuket's biggest and most fun water parks? Splash Jungle Water Park is a massive water park that is located within Centara Grand West Sands Resort, making it easier for you to come out of your hotel rooms and head on to a whole day of fun just next door!
Try out the variety of cool, fun waterslides, or even laze around on the Lazy River, or hang out at the wave pool. Toddlers and young kids' fun are also covered, as there are also smaller water slides and paddling pools for the little ones. Enjoy your day out in the sun with your loved ones here at Splash Jungle Water Park!
Prices: From USD $37 / approx. 1250 Baht per person
Address: 65 Moo 4, Mai Kao Soi 4, T. Mai Kao, A. Thalang, 83110
Contact: +66 76 372 1111
Opening hours: Mon-Sun, 10am to 6pm
Website
8) 50Fly Trampoline Club Phuket
Jump and jump to your heart's content at 50FLY Trampoline Park! Separated into different zones for different plays, there'll only be laughter and smiles here as you and your kids spend the time of your lives jumping around while playing games.
For those aspiring wakeboarders, surfers, skateboarders, your place is at the Sport Zone! For families who just want to have fun with their kids, have fun at the Acrobat Zone, whereas those who wanna jump on trampolines while playing dodgeball, basketball and even football, the Fun Zone is for you. Check out their climbing wall too if you're up for testing your muscles. Psst… you can even hold your birthday parties here!
Prices: From USD $10 / approx. 350 Baht (for 1 hour free time without coach on weekdays)
Address: Trampoline Gym, Big C Supercenter, 72 Moo 5, Vichit, A. Muang, 83000 (3rd floor)
Contact: +66 96 776 5045
Opening hours: Mon-Sun, times and classes vary. Click here and scroll to the bottom for full schedule
Website
9) Rollerball
Zorbing is a great way to spend time with your family! Squeeze yourself into one of these enormous plastic balls filled with water and roll down the track – you can even roll over your parents!
Roll down the 190-metre zorbing track as you race each other down. And if you ever need a place to relax, there are picnic tables for you to chill and hang out while watching the beautiful sight of the sunset, with the accompaniment of the Andaman Sea. Many recommend taking the 6-roll package to make an awesome day out at Rollerball!
Prices: From USD $28 / approx. 950 Baht (for 1 roll and one juice/water)
Address: Kalim Bay View, Soi 7, Kalim, Patong, Phuket, 83150
Contact: +66 89 872 6532, contact@rollerball.co
Opening hours: Mon-Sun, 10am – 8pm
Instagram, Facebook
10) Kidzoona
Located in Jungceylon Mall, Kidzoona is a place suitable for kids under the age of 12, where they can explore and keep themselves entertained with a bunch of fun activities, such as flower arrangements, sand craft, and even live out their imaginations as chefs, firefighters and train drivers!
The biggest highlight here is the Japanese indoor-themed fun park, where a ball pit, slides and a jungle gym is available to get your kids moving and smiling, letting them have a great time in this indoor playground. If your kids are over 12, do try out Molly Fantasy that's just beside Kidzoona, where they have rides suitable for their age group.
Prices: From USD $5.80 / approx. 200 Baht (for children under 105cm on weekdays), *price varies according to height
Address: Jungceylon Mall, Sansabai Soi 2, Tambon Patong, Amphoe Kathu, Chang Wat, 83150
Contact: +66 76 600 111
Opening hours: Mon-Sun, 11am to 9pm
11) Phuket Trickeye Museum
Let out your imagination here at this cool trickeye museum in Phuket! With hundreds of trick art in the gallery, Phuket Trickeye Museum is a great place to have fun with your family.
These displays of trick art are so real, you and your kids will definitely have a wonderful time laughing and posing for that believable photo!
Address: 130/1 Phangnga Rd, Talat Yai, Muang, Phuket 83000, Thailand
Contact: +66 (0)76 212 806
Operating Hours: Daily from 10am to 7pm
12) Baan Teelanka
This three-storey upside-down house is just the place for your family to have a fun time and make awesome memories. Quite literally, everything about this house is upside-down; even the roof!
There are more places to check out here in Baan Teelanka, such as the maze-like garden in the backyard, where your kids can run free trying to find the exit. Other fun activities here include a Room Escape Game and the Drunk Box – all of which are pretty entertaining!
Prices:
Upside-down House – USD $10 / approx. 350 Baht (adult), USD $6 / approx. 190 Baht (children)
Garden Maze/Virtual Reality Camera – USD $5 / approx. 170 Baht (adults), USD $4 / approx. 120 Baht (children)
Room Escape Game – USD $15 / approx. 520 Baht (adults), USD $9 / approx. 290 Baht (children)
Video Studio – USD $7 / approx. 250 Baht (adults), USD $4 / approx. 150 Baht (children
Virtual Reality Camera – USD $5
Drunk Box – USD $2 / approx. 50 Baht (adults), USD $1 / approx. 30 Baht (children
All 6-Combo Pack – USD $38 / 1300 Baht (adults), USD $21 / approx. 720 Baht (children)
Address: 51/11 Moo 5, Bypass Road, Koh Kaew, Phuket Town, 83000
Contact: +66 76 376 246
Opening hours: Monday – Sunday, 9am – 6pm
13) Aloha Diving
As one of the world's most famous diving destinations, scuba diving in Phuket is absolutely a must-do activity here! Explore the beautiful marine life in Phuket with your family members by going on a scuba-diving tour, or if you're not experienced, sign up for lessons and get that scuba diving licence if you're able to!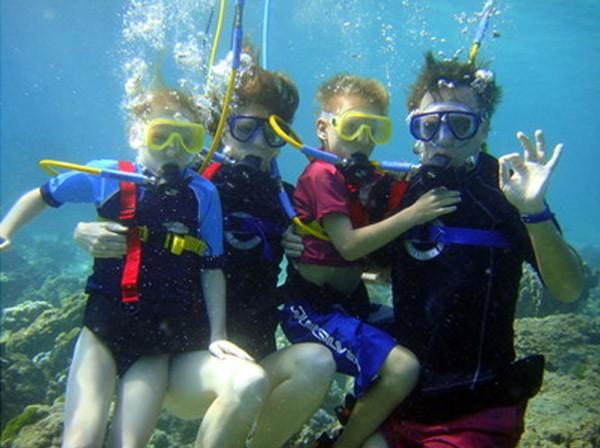 If your kids are still too young for scuba diving, no worries – Aloha Diving offers a course in Try Diving too, which was previous known as SNUBA diving. According to Aloha Diving, Try Diving is almost the same than SNUBA diving but with more flexibility (you are not attached and connected with the surface) and is specially designed for people who have never dived or for those without a license. Find out more about try diving here!
Prices: *prices vary according to dive location, length of dive, and other needs.
Address: 87/18 Moo 2, Talad Rawai, A. Muang, 83130
Contact: +66 97 924 3483
Opening hours: Mon-Sun, 7am to 9pm
Website
14) Phuket Riding Club
Horseback riding can be one of the most fulfilling things to experience as a child – not only do we get to ride a cool horse, but also feel some sort of connection with nature. Experience this at Phuket Riding Club, where they have special tours that allow you to ride one of their magnificent horses while touring jungles and beaches nearby.
They have various tours that you can choose from, so just pick whichever that suits you and get galloping away! There are lessons for newbies and young children too. In terms of safety, their guide is always there with you to ensure the safety of you, your children and the horses. We recommend trying the evening tours, as you'd get to catch a glimpse of the sunset!
Prices: From USD $35 / approx. 1200 Baht (per person for 1-hour trek)
Address: 60/9 Thepkasattri Road, Maikhao, Thalang,
Contact: pemika2006@hotmail.com +66 81 787 2455
Opening hours: N/A
Website
15) Chillva Market
There are lots of things to see here at Chillva Market. From clothes to slippers, to various cool toys for your kids, your five senses will come alive here. The only vibe you will get here is 'relaxing'. There is a mini amphitheatre that you can sit down and chill to rest while watching performances performed by live bands of the night.
Prices: Food from USD $2 / approx. 50 Baht, souvenirs from USD $3 / approx. 100 Baht
Address: Yaowarat Rd, Talat Yai, Amphoe Mueang Phuket, Chang Wat Phuket 83000, Thailand
Opening hours: Thursday-Saturday, 5pm to 10pm (on other days, the market is open with limited stalls only)
16) Indy Market
Another well-known local market, Indy Market is more known for the delicious street food. Try out some of the local food with your kids, and experience Thai culture in the best way possible. Not only are these food tasty, but they're also super cheap! While you're at it, why not get a family portrait drawn by some artists at the market?
Prices: Cheap! Food from USD $2 / approx. 50 Baht, souvenirs and caricature drawing from USD $3 / approx. 100 Baht
Address: Limelight Avenue (next to Dibuk Road), Phuket Town
Opening hours: Thursday and Friday evenings, 4pm to 10pm
17) Phuket Elephant Sanctuary
Visiting the Phuket Elephant Sanctuary is a great place to not only spend time together as a family, but it is also a great opportunity to learn about elephants too. Over here, you'll have the opportunities to feed and bathe these gentle giants, as well as see them interact with one another. Elephants are so special and important to the ecosystem, adults and kids alike will definitely treasure this amazing experience!
Address: 100, Moo 2, Paklok, Thalang, Phuket Thailand
Contact: +66 76 529 099 (08.30am – 17.30pm), +66 62 767 7111 (07.30am – 10.00pm)
Email: info@phuketpes.org
Opening Hours: Open daily from 9.30am to 5.00pm
Website
18) Big Buddha Phuket
Many families visit this historic site to be blessed by the Buddhist monks here, and also to learn about the rich local culture of Thailand. Plus, it's one of Phuket's most popular tourist attractions, with a beautiful Buddha statue standing about 45-metres tall.
Another plus point to visit the Big Buddha in Phuket is the amazing view overlooking Phuket Town you see when you reach the top of Nakkerd Hill, where the statue is situated. If you like watching the sunsets with your family, we recommend visiting in the late afternoon.
Prices: FREE! Donations welcome.
Address: Soi Yot Sane 1, Chaofa West Rd., Chalong, Phuket Town, 83100
Contact: +66 83 556 2242
Opening hours: Mon-Sun, 6am to 7pm
Website
19) Koh Sirey
Koh Sirey is a small village town surrounded by rubber plantations. As it is considered to be one of the less crowded tourist spots in Phuket, visiting Koh Sirey with your family should be a calming yet fulfilling visit. You'll even see monkeys and hopefully make friends with them!
The views here are equally as beautiful as any other beach in Phuket, just minus the crowds. Over here in Koh Sirey, you'll definitely be able to have a quiet, peaceful holiday with your family. One popular landmark you should visit here is the Golden Buddhas at Wat Sirey; it has an amazing view from the top.
Location: Rassada, Muang, Phuket 83000, Thailand
20) Flying Hanuman
Kids and adults alike will love this zipline adventure park. Flying Hanuman is a great place to test your bodily abilities, as you climb, cross and zipline many obstacle courses in this massive park.
Not only does it test your physical abilities, but also your determination and team spirit. Flying Hanuman is ideal for team building events, so if you'd like to see how tight-knitted your family is or can be, plan your visit here at Flying Hanuman when you're in Phuket!
Address: 89/16 Moo 6, Soi Namtok Kathu, Wichitsongkram Road, Kathu, Phuket 83120, Thailand
Operating Hours: Daily from 8am to 6pm
Phone: +66 (0)81 979 2332
With these many attractions to choose from, no one can complain that family trips in Phuket are boring any longer!
NOTE: All the above information is correct at the date of publication. If you come across any changes or updates, please let us know by email and we will update the information accordingly. Thank you!
This article is published by Travelog.
For more Phuket travel deals, click here for more information!