This article is published by Travelog.
For more Phuket travel deals, click here for more information!
Blue sea and white sand, let's talk about your dream beach destination in this article. As Thailand's largest island, Phuket will never let you down and there are over 30 beaches peppering Phuket's breathtaking coast. Yes, there are too many nice beaches in Phuket and you may hesitate over which to visit. No worries, I have listed down the best of the best for you!
A kindly note for all of you: the best beach experience for visiting is between November and May.
1. Patong Beach
I would say Patong Beach is the heart of Phuket. Patong beach is the longest beach in Phuket and also the most visited beach by tourists. It is a fantastic beach but if you are looking for a beach to relax and chill, this is not the one. Patong Beach is the most lively and crowded beach in Phuket, especially at night. You can definitely experience a legendary wild nightlife. The town just behind the beach has the best nightlife in all of Phuket, along with some great restaurants, clubs and bars.
2. Kata Beach
This is the second famous one in Phuket! Palm tree-lined with soft, white sand and plenty of places to eat and drink nearby, Kata Beach is always the family favorite. At around 1.5km long, Kata Beach is big enough never to feel overly crowded and ensures you'll always have ample space for a towel on the beach.
You won't get bored in Kata Beach as there are few watersports for you to experience there. Snorkeling, Kayaks, Parasailing or Scuba Diving, choose a way to explore the beauty of the sea.
3) Kata Noi Beach
Kata Noi Beach is just right next to Kata Beach and 'Kata Noi' literally means the little Kata. Kata Noi is so much quiet than Kata Beach so you can relax in the quiet atmosphere laying in the finest white sands. Also, the sea here is ideal for activities such as snorkeling and surfing.
4) Freedom Beach
Freedom Beach is a hidden gem which is just a 10-minute ride in a long-tail boat from Patong Beach. As a quiet and unspoiled beach, here is the best place for you to escape from the hustle and bustle of Patong.
Freedom Beach has 2 distinct areas separated by the long-tail boats' landing spot. The northern side of the beach is arguably the best place to relax and enjoy your sunbathing. If you want to take some Instagrammable photos, climb the concrete stairs for panoramic views of the beach from the hill.
5) Ya Nui Beach
Yanui Beach is the smallest beach in Phuket. However, this cozy is the perfect place for watching the sunset while avoiding crowds of tourists, leaving you in relative peace to enjoy the clear, turquoise sea and the backdrop of thick, green bush that lines the beach.
In terms of activities, body-boarding is popular here, as is snorkeling, with some of the best snorkeling to be found out by Koh Keyao Noi, which is only a short kayak away.
6) Surin Beach
This clean and relatively uncrowded beach is about one kilometer long. Here, soft and fine sand gives way to a scenic row of palm trees, while the sea itself has both light and deeper blue tones.
Surin beach is nicknamed the 'Millionaire's Row' as several of Phuket's top beach clubs, high-class resorts and hotels are located nearby Surin Beach. Moreover, you can expect a number of good restaurants and bars just a short walk away here.
7) Karon Beach
As the third-longest beach in Phuket, Karon Beach is one of the most popular beaches in Phuket. Karon Beach wedged between Patong (to the north) and Kata (to the south) but this beach offers visitors a quieter, more laid-back experience. Karon Beach has the interesting honor of having the squeakiest sand in Phuket. Fine and soft, it makes a funny sound when you walk on it.
You'll still have plenty of things to do here. If the weather is right, you can even go parasailing or jet skiing.
8) Paradise Beach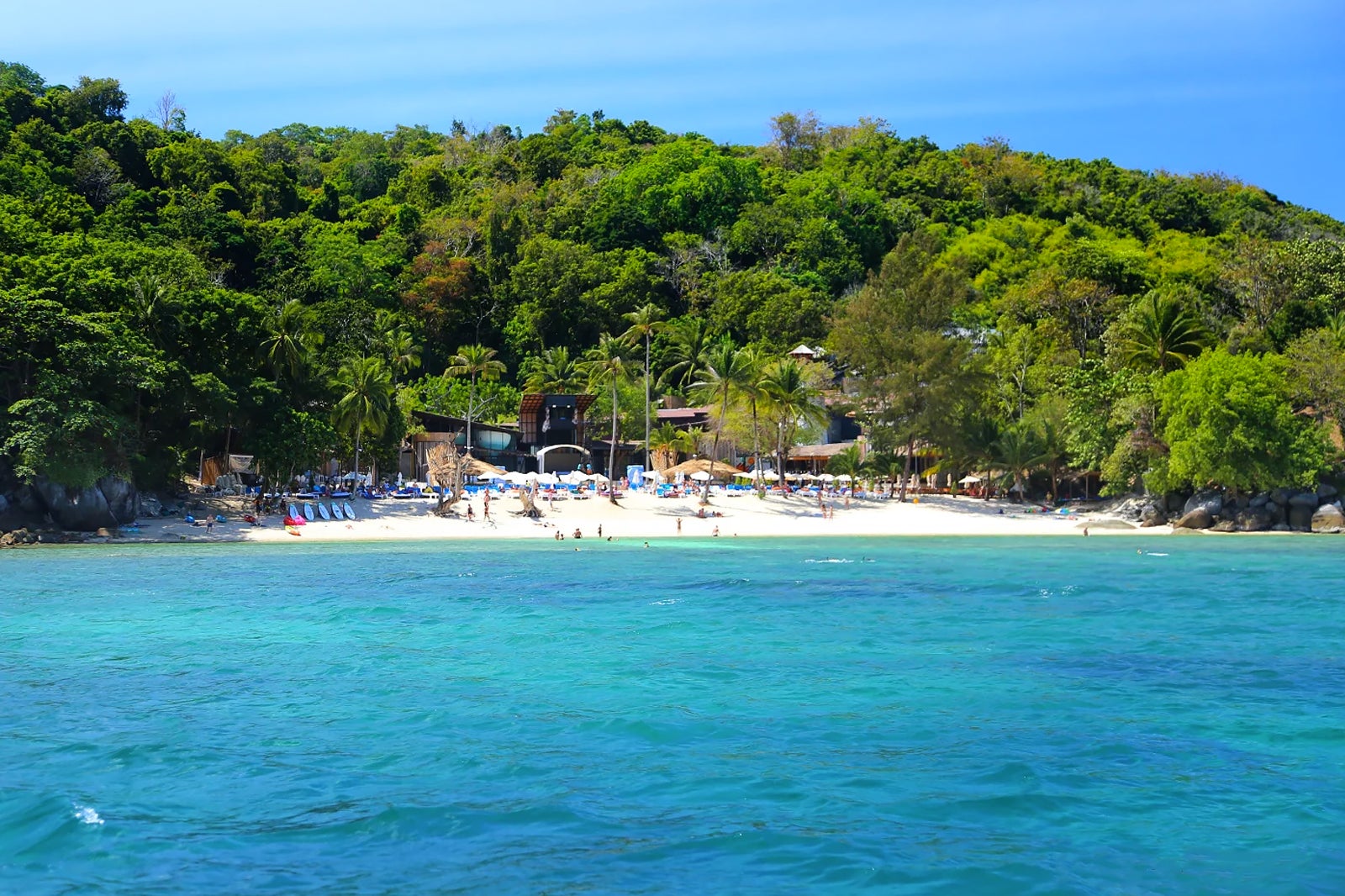 This beach is literally PARADISE! The glossy, azure sea laps an impressively clean shore while giant palm trees lean and sway in the background. Located in a pristine location just 8 minutes away from world-renowned Patong Beach, visitors can come to Paradise Beach daily from 9:00 am.
Besides blue sea and white sand, the Paradise Beach Club is also what you can expect. The little cove has a great choice of facilities, including restaurants, bars, sea kayaks, beach chairs and more. It's also the home of Phuket's only Koh Phangan-style beach parties.
Visit the Website for more information.
9) Nai Harn Beach
Nai Harn Beach is a lovely small bay with powdery-soft sand and sea that changes from calm in the high season to strong currents in low season. The water here is especially bright and blue from November to April. The spot hasn't been excessively developed because the park surrounded the bay is somehow protected, so it retains its quiet charm. On windier days, it is also a good spot for kite-surfing.
10) Ao Sane Beach
This tiny hidden beach is not easy to find! It is visible from Nai Harn Beach, but you need to drive through The Nai Harn hotel or you will never find out. Perhaps the island's rockiest beach, Ao Sane is also one of its best "secrets." This beach is where you'll find the meaning of true tranquility.
Ao Sane consists of three tiny sandy bays, and you can walk from one to another through the few beach bungalows.
11) Bangtao Beach
One of the longest beaches in Phuket, the golden shore is about 6 kilometers long. Bang Tao Beach has some interesting history behind it. It used to be a tin mining area, which of course brought in fortunes for Phuket as a trade. But after some time, the land came into decline and wasn't worth much anymore. At this point, it was just a piece of land next to the Andaman Sea.
It has recently become a trendy and upscale beach due to many high-end resorts lined there along with attractions like a private golf course, wakeboarding, horseback riding, and beach clubs to choose from. At all, Bang Tao Beach is a super fun place for the entire family.
12) Kamala Beach
Kamala is claimed to be one of the cleanest beaches in Phuket. Although it is located just north of lively Patong Beach is Kamala Beach, almost a polar opposite to its noisy neighbor, the ambiance in Kamala Beach is very different from there. The ambiance here is totally gentle and calm. Extremely quiet in low season, once the high season comes around it picks up a little bit with water activities available, but it's still one of the most relaxing and quiet beaches on the island.
13) Laem Singh Beach
Laem Singh beach is a small jungle beach located between Kamala Beach and Surin Beach. To get to it you must park up on the road and walk down a steep path of stone stairs. It's only a couple of minutes' walk, not far just steep, and it's a nice jungle walk. You can enjoy the snorkeling kits here which allow you to take advantage of the clear water and explore the world beneath the waves.
14) Mai Khao Beach
Here comes the longest beach in Phuket, Mai Khao Beach. The beach is about 11 kilometers long. Although there is not a lot to do when staying on Mai Khao Beach, this is the best place for you to chill, relax and enjoy the breeze. There is also exciting attraction on Mai Khao which is the Splash Waterpark at the south end of the beach, part of the large Centara Grand West Sands resort complex. The water park is great for kids big and small, but there is not much here for those who don't want to splash and yell.
Plane spotting is also a popular activity in Mai Khao Beach. Every day, many people gather at the end of the runway to get their photo taken with a plane, thanks to the ease of access to the western end of Phuket International Airport's runway, at the southern end of Mai Khao Beach.
15) Naithon Beach
Another hidden gem on the west coast of Phuket, Naithon Beach is far from the main road. Unlike the crowded Patong Beach and Kata Beach, this beautiful stretch of white sand seems to be out of big resort developers' eyesight. It is perfect for those in search of a peaceful spot with just enough facilities.
Enjoy your ideal beach vacation in Phuket!
NOTE: All the above information is correct at the date of publication. If you come across any changes or updates, please let us know by email and we will update the information accordingly. Thank you!
This article is published by Travelog.
For more Phuket travel deals, click here for more information!