This article is published by Travelog.
For more Phuket travel deals, click here for more information!
With its mixture of exoticism, romance, sense of adventure and plain excitement, the nightlife in Phuket is what you can expect! From wild go-go bars to quiet little beer bars, to all-out club action to sipping a cocktail at a beach bar, Phuket really does have it all.
The town will start buzzing at 9PM and doesn't stop until the wee hours. Believe me, the nightlife in Phuket is unique and worth exploring. So let's take a look at the 15 best nightlife experiences in Phuket to enjoy and have a great night!
1) Illuzion
Attention Clubbers, your Phuket trip will not be completed without a visit to Illuzion! Illuzion was rated as the top entertainment night club in Thailand and also the 48th in the world! The atmosphere here is really impeccable as they are using the top of the line sound system, LED visial displays and top-tier performers and aerialist.
The club regularly showcases international heavyweight DJs such as Martin Garrix, Tiesto, Marshmello, etc. The club also features worldwide famous singers from the likes of Wiz Khalifa, Jason Derulo, etc. Visit their website to check which star is going to perform during your trip!
In addition, Entry is free, drinks are fairly priced and there's a pay-for-the-privilege VIP area if you're feeling fancy!
Location: 31, Bangla Rd. Patong Beach, Phuket
Opening Hours: 9PM – Late
Phone: +66 (0) 935 834 766
Visit Website
2) Sugar Club Patong
Claiming as the top premium hip-hop club in Patong, Sugar Club is another place for you to party all night! The venue features a 350-square-meter LED screen on their exterior walls, and it's divided into a regular and VIP zones, letting customers choose to either mingle in the main zone or enjoy privacy in the VIP area, with the VIP mezzanine granting an excellent view on the club's center stage.
Live DJs provide a modern hip-hop soundtrack every night, flanked by professional dancers. Already, international hip-hop stars like Rae Sremmurd, Byte, Lead and Fatfingaz have headlined, but Thailand's local talent isn't totally forgotten.
Location: 70/3 Bangla road Patong KATHU Phuket 83150
Opening Hours: 10PM – Late
Phone: 098 889 8590
Visit Website
3) Kudo Beach Club
If you prefer an outdoor club, this is it. KUDO Beach Club is one of the most trendy and entertaining Beach Clubs in all Andaman Sea region as well as the hottest spot on Phuket Island. This is where you can chill and enjoy your drink as this beach club is dedicated to creating a unique lifestyle experience for those looking for that ideal daytime destination to relax.
Location: 33/1 Patongbeach Rd. Patong Beach – Phuket
Opening Hours: 5PM – Late
Phone: +66 (0)918 424 303
Visit Website
4) Suzy Wong's A Go Go
Don't be shy and hold your nosebleed! Suzy Wong's is without a doubt the most famous and most iconic Go Go bar in Phuket. This old-China themed go-go bar is a perfect place for a truly great night of fun and a party like you probably never experienced before.
Legendary for featuring the most beautiful and sexy Thai girls in Patong and a great service, Suzy Wong's prides itself for the invention of the famous "Ass Smacking Fun!"
Please Take Note!
Touts (Those guys showing you a card with the menu on Bangla road) are not working for bars! Never follow a tout in the street with his little card of whatever he says you will see in the show! They will take you to another bar, pretending Suzy Wong's is closed today + you will be charged extra, just walk away!
Location: 23/17-18 Soi Sea Dragon Thanon Bangla, Pa Tong, Phuket 83150, Thailand
Opening Hours: 7:30PM – 3AM
Visit Website
5) Xana Beach Club
Another beach club option for you! XANA BEACH CLUB located right at the beach front of Angsana Laguna Phuket. You can visit here during both day and night, you will feel a different ambiance! When the sun sets, watch the atmosphere at XANA electrify the air with live entertainment, the latest music and a sumptuous spread of tapas, European food, Thai dishes, Mediterranean favourites and a satisfyingly lengthy wine and cocktail selection.
Location: 10 Moo 4, Srisoonthorn Road, Cherngtalay, Thalang Phuket 83110 Thailand
Opening Hours: 10:30AM – 10:30PM
Phone: 66 (0)76 358 500
Visit Website
6) After Beach Bar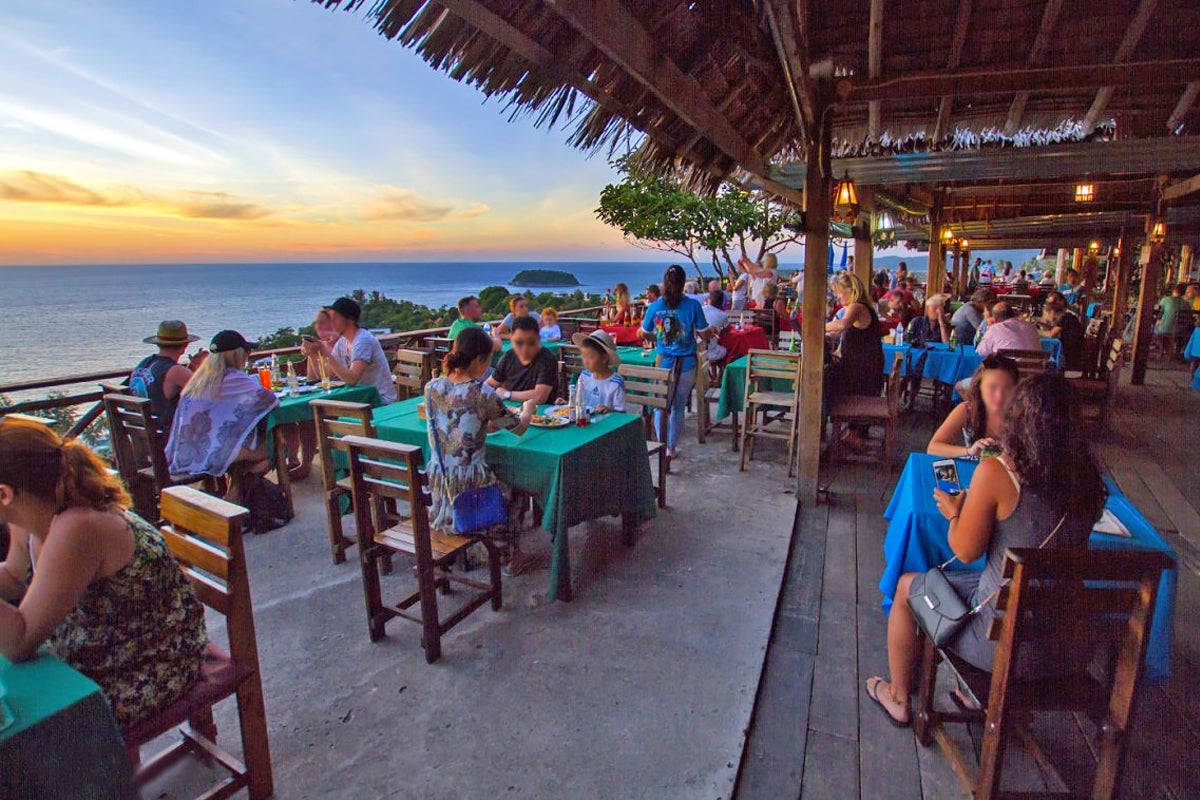 We find you a perfect place to enjoy the sunset and the sea view at the same time. After Beach Bar is a friendly clifftop bar perched high above Kata Noi beach. These rather simple and open-air eateries are a lot more relaxing than the often crowded Kata Viewpoint. You can find wooden floors and benches lining their western, sunset-facing sides.
It's open all day, but surely sunset is the time to be here.
Location: 44 Kata Rd, Karon, Mueang Phuket District, Phuket 83100, Thailand
Opening Hours: 9AM – 10:30PM
Phone: +66 84 745 9365
7) Zimplex
Looking for some unique drinks that will blow your mind away? Zimplex is definitely the best place for you. This is not an ordinary bar! Zimplex is designed to look like a dark science lab with a deep sound session, neon lights, nice crowd and everything but mainstream drinks. Yes, all the drinks here are unique and creative.
Location: 156/48 Phang-Nga Rd., Talad-Yai, Muang, Phuket, Thailand
Phuket City
Opening Hours: 8PM – Midnight (Closed on Monday)
Phone: +66 89 115 8540
Visit Website
8) Music Matter
If EDM isn't your cup of tea, how about Jazz? Music Matters Jazz Club Bar is a lovely small jazz bar with cheap drinks and live music. Also, a definite place to relax and get away from the crowd.
This little bar is quite hard to find. It located in Phuket Town, in small Chana Chaaroen Road, near to the Ocean Shopping Plaza, set behind a small restaurant. Enjoy your jazz night here! Live jazz and jamming sessions are normally held on Wednesday nights.
Location: 119 Mueang Phuket District, Phuket 83000, Thailand
Opening Hours: 7PM – Midnight
Phone: +66 95 429 8746
Visit Website
9) Paradise Complex
There is another name for Paradise Complex, which is The Best and Only Gay Street. This is the centre of Phuket's gay nightlife scene, with dozens of LGBT-run bars, clubs, discos, restaurants, cafés and more, located just five minutes from Patong Beach. All gay bars on Paradise Complex street host nightly shows which are free entry but guests are expected to buy at least one drink.
Start from 10PM, this street will become lively and busy with many of the bars putting on street performances to attract the guests. If you have no idea where to go while visiting the street, Boat Bar and Zag Bar are two of the most popular venues in Paradise Complex.
Location: Rath Uthit Road, Patong, Kathu, Phuket 83150 Thailand
Opening Hours: 8PM – 4AM
10) Bangla Road Street Food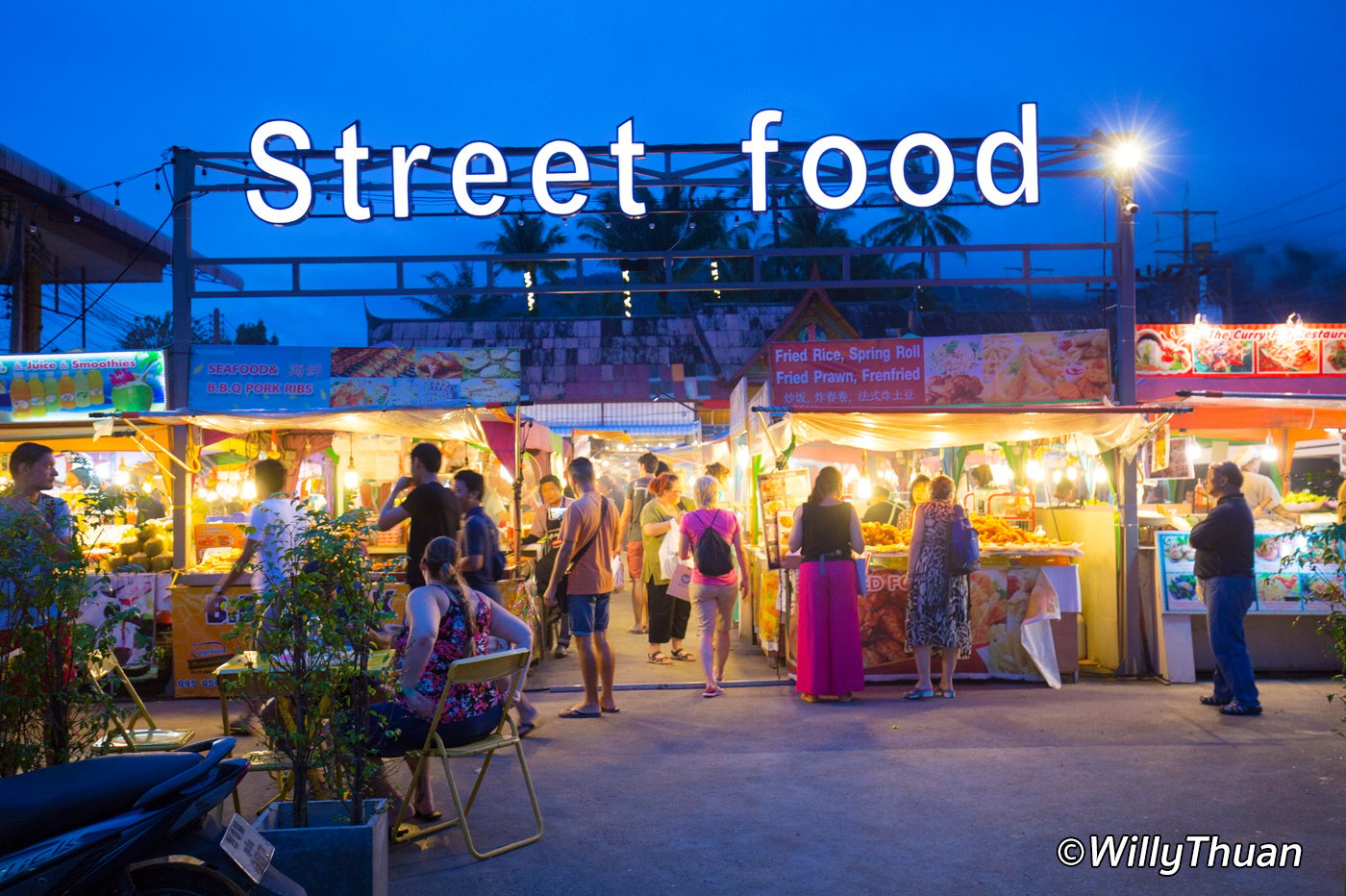 Your nightlife is not complete without visiting a night market in Phuket. As always with nightlife in Phuket, you gotta start with Soi Bangla, which has its own mini night market. The night market here is essentially just a food market, offering some great value fresh seafood and value for money most of the dishes cost no more than 100 Baht s and you can also get Beer for 70-80 Baht. The nightlife in Patong is full of music, even in the night market you will see live music performances by local musicians.
This night market opens late so that you can even visit here for the "second round" after your party. Some of the stalls will even open until about 4 AM.
Location: Soi Bangla, Patong, Kathu, Phuket 83150, Thailand
Opening Hours: 4PM – 3AM (Depends on individual stalls)
11) Chillva Market Phuket
Phuket has many night markets but I would highly recommend you to visit Chillva Market. This is a cool, trendy night market and what I like the most is the Bohemian vibe here. The market has a distinctive look created by the use of colourful shipping containers as shopfronts. Chillva Market has a mix of shops, market stalls, bars, restaurants, food stalls and often has live music too!
Being quite small, taking a leisurely walk around Chillva Market Phuket won't tire you out or take you half the night to explore. Most of the stalls are often run by young people trying to make a little money for fun and studies.
Location: 141/2 Yaowarat Road, Phuket Town, Phuket 83000, Thailand
Opening Hours: 5PM – 11PM (Closed on Sunday)
Phone: +66 99 152 1919
Visit Website
12) Phuket Simon Cabaret
Not only drinking and eating, but you can also enrich your nightlife in Phuket by enjoying the unique show! Phuket Simon Cabaret has been successful for more than two decades with the flashy costumes and theatrical, over-the-top performances of Ladyboy.
The theatre and its stage are impressive. I believe you will definitely be amazed at the professional approach to each musical theme, laugh along at the comedy and fun. It is a visual spectacular that will have you leaving wishing there was no more to see.
Location: 8 Sirirach Rd., Patong Beach, Phuket 83150 Thailand
Opening Hours: 6pm, 7.30pm and 9pm (Depends on your ticket showtime)
Phone: 076 342 011
Visit Website
13) Patong Boxing
If you are looking for some extreme experience, consider this. Known to be the biggest Muay Thai ring in Southern Thailand, the Patong Boxing Stadium brings in droves of crowds at their night matches. At Patong Boxing Stadium, you can get experience about the famous sport of Thailand by watching an extreme Live Thai Boxing or Muaythai real fight.
The stadium is difficult to find and located off a side street of Sai Nam Yen Road, Patong Beach. If you have never been to the stadium, you will have to ask a tuk tuk driver where to find the stadium. Lots of parking is available.
Location: 2/59 Sainamyen Rd Tambon Patong, Amphoe Kathu, Chang Wat Phuket 83150
Opening Hours: 9pm (Every Monday, Thursday, Saturday )
Visit Website
14) Fantasea
Fantasea is another fantastic show in Phuket that you shouldn't miss! Known as Fantasy of a Kingdom, the show is about the exotic and mesmerizing heritage of Thailand, coupled with innovative and cutting edge technology and modern AV techniques.
The show is a feast for the senses. You'll see Thai culture, magic, acrobatics, performing animals, pyrotechnics, stunts and aerial performances plus 4-D effects.
Location: 99 Kamala, Kathu District, Phuket 83150
Opening Hours: 5:30PM – 11:30PM (Closed on Thursday)
Phone: 076 385 000
Visit Website
15) Dino Park Mini Golf Course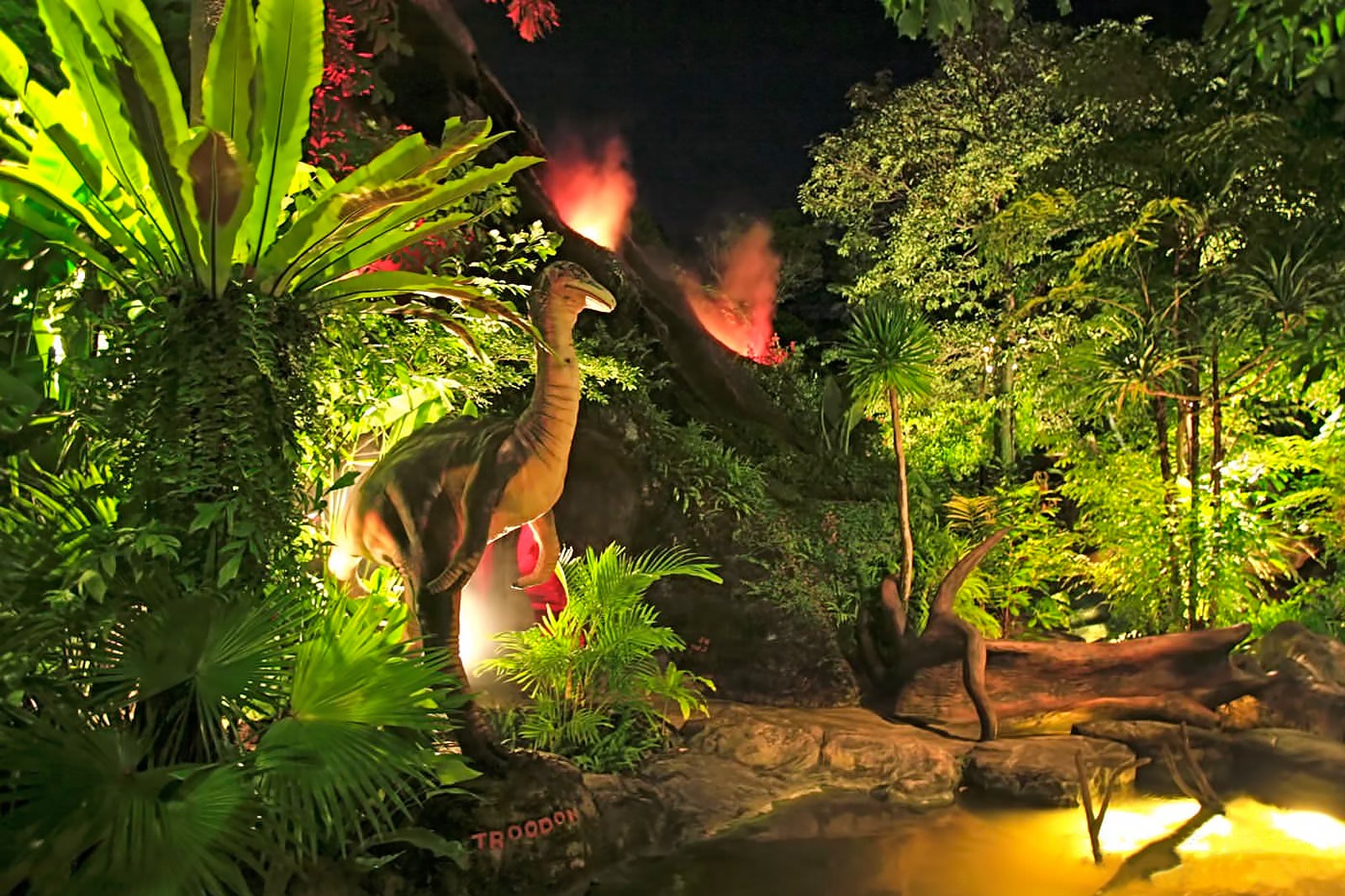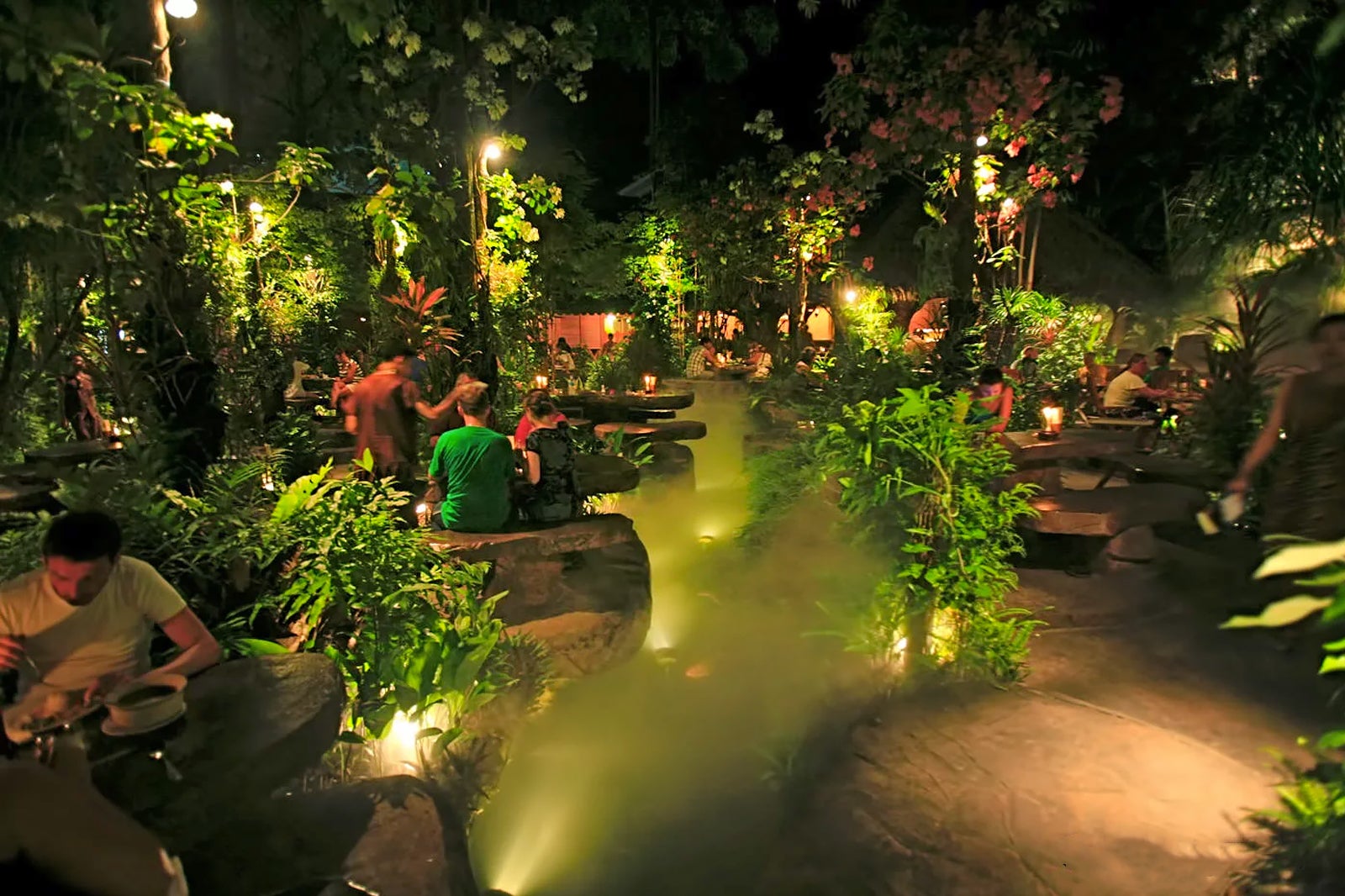 Finally there is a place that you can bring your kids along to enjoy the nightlife together. Dino Park Mini Golf is one of the fascinating attractions and also an ideal family outing destination. The entire park premise has a wildlife theme with waterfalls, caves, and realistic mammoth dinosaur models. Kids and adults can enjoy real-time golf matches, explore the park & the kid's zone, and even chill out at one of the lavish bungalows of Marina Phuket Resort located there.
The mini-golf course is 18 holes and features authentic scale replicas of prehistoric creatures, each hole blending with the theme and offering a different and exciting view of the prehistoric world.
Location: 47 Karon Road Karon, Muang, Phuket 83100, Thailand
Opening Hours: 10AM – 11PM
Phone: +66 (0)76 330 625
Visit Website
NOTE: All the above information is correct at the date of publication. If you come across any changes or updates, please let us know by email and we will update the information accordingly. Thank you!
This article is published by Travelog.
For more Phuket travel deals, click here for more information!